This is one of our favorite breakfast recipes. It's fast, it's easy, and it's so good and rich. It's basically eggs benedict for people, such as myself, who are too lazy to make hollandaise sauce.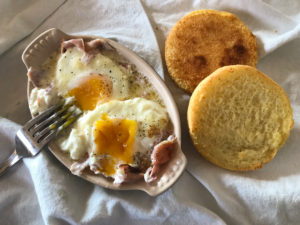 When I was still in school, during my first real cooking lab, we had a new "theme" every class. We'd work on grilling one week, frying another week, then braising the week after that, etc. One of those classes, and easily my least favorite of all time, was egg day.
Basically, we got to make eggs until we could do it without screwing them up, which meant making 9,000 fried eggs, at least a million French omelettes, gallons of hollandaise sauce, and a ton of other breakfast dishes until we could do them with our eyes closed.
After that, could I flip a fried egg with no spatula? Yes. Could I make a passable French omelette? Maybe, maybe not, but that's another story. Did I ever want to see eggs again? NO. No, no, no.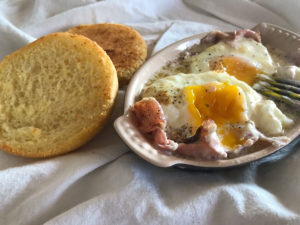 But the one recipe that I loved enough to actually make at home was shirred eggs (which is a fancy way to say eggs and other good stuff baked in a ramekin). They are just so good, not even egg day could ruin them for me.
Over the years, I've found better (read: easier) ways to make them, and perfected the recipe so that the white is totally set, but the yolk is still runny and silky. And now you can make them too, and you don't even have to suffer the horrors of egg day to do it ;).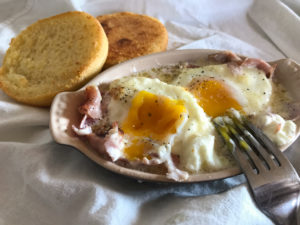 This recipe is super easy to double or even triple to feed a crowd. I call for 4 eggs to make 4 servings, but we usually do 2 eggs per person, so just adjust the ingredients to suit your needs!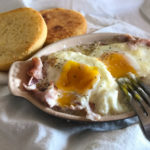 Sizzling Eggs
Ingredients
2.5

tbsp

unsalted butter

1

cup

heavy cream

6

slices

ham or Canadian bacon

diced

4

eggs

Pinch

of salt and pepper

2

tablespoons

finely grated parmesan cheese

optional

4

English Muffins or bagels*

toasted
Instructions
Heat oven to 425F.

Add butter, ham, and heavy cream to a 9×13 baking dish, and bake until cream is bubbling and just starting to get brown around the edges, about 10 minutes.

Drop oven temperature to 350F.

Crack eggs on top of the ham, evenly spaced apart. Sprinkle parmesan cheese on top if using, and return to oven for 11-13 minutes or until whites are set and yolks are to your desired doneness.

Add salt and pepper to taste.

Serve alongside toasted english muffins or bagels.
Recipe Notes
*For gluten free, be sure to use your favorite gluten free bread. I use Glutino brand gluten-free English Muffins for this recipe.
If egg whites are not fully set after 13 minutes, you can turn the oven off and leave the baking pan in there for an additional 3 minutes to continue cooking the whites without overcooking the yolks.
This recipe is 4 servings, which for the purpose of this recipe is 1 egg each. We often eat 2 eggs per serving, and this recipe can easily be doubled or tripled based on your needs.