When you go gluten free, one of the first types of takeout to be immediately out of the picture is Chinese. Even without the breading on the chicken and if you get rid of the noodles, you're still left with soy sauce in everything which is almost never gluten free.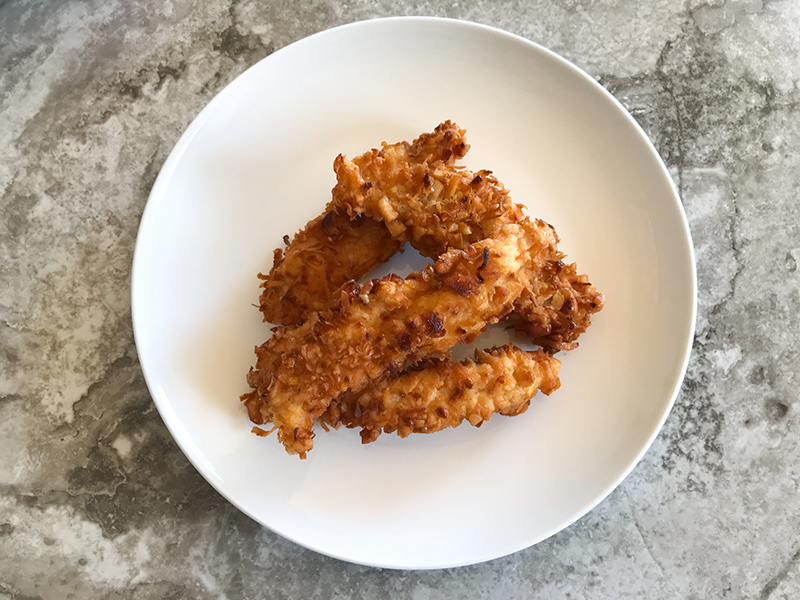 So, you have to learn to make your own. And I will tell you from experience that finding copycat recipes that actually taste like restaurant food for your favorite Americanized Chinese dishes is not easy. But, I'm on a mission, and first up is this amazing coconut chicken.
Guys, it is so good. SO. GOOD.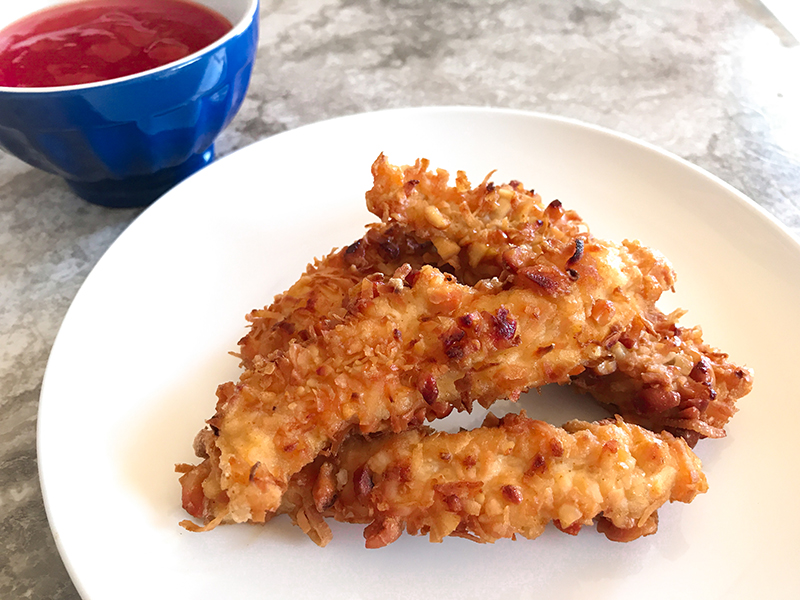 It tastes exactly like the stuff that's on the line at my favorite Chinese buffet. It is gluten free, but honestly, it would have been gluten free even if I could have wheat. There's no real reason to have flour in this recipe because cornstarch gives a better crunch.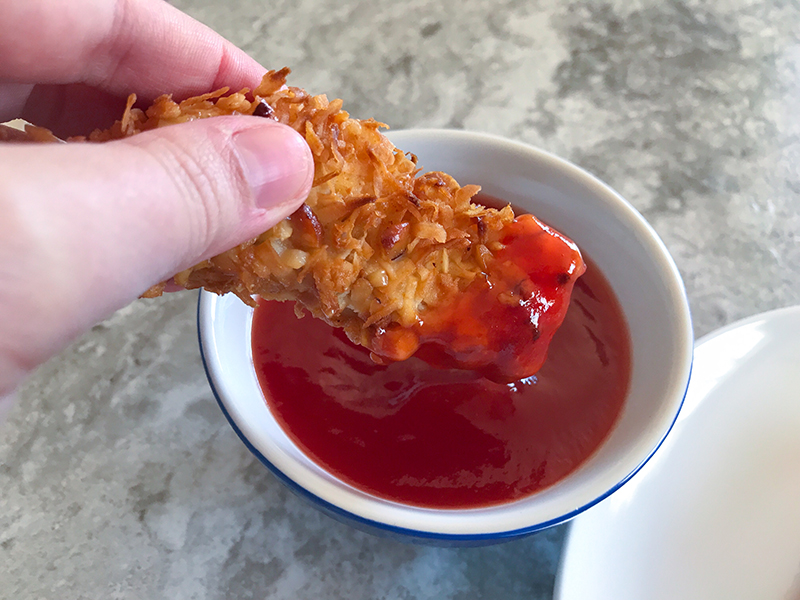 You can serve it with any dipping sauce you'd like, but I would recommend my restaurant-style sweet and sour sauce! I dream of crispy coconut chicken dipped in super sweet, fruity red sauce.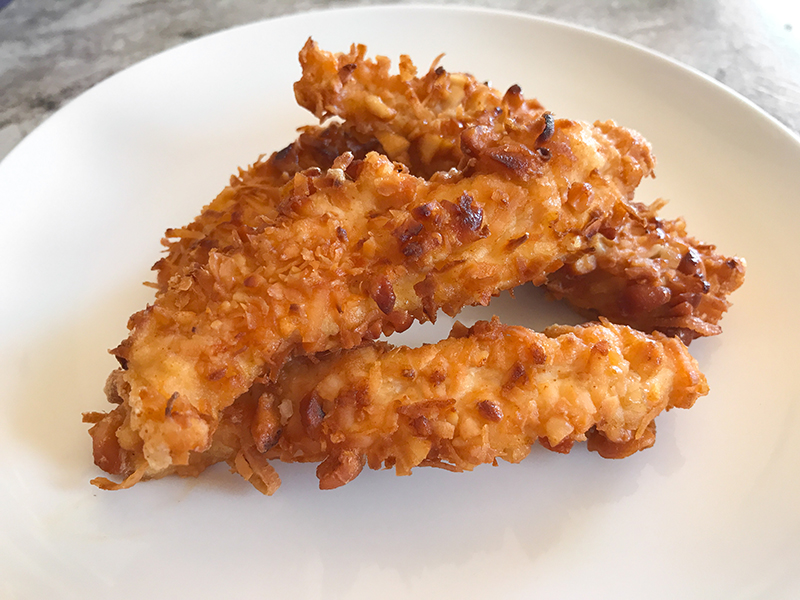 I DREAM OF THIS CHICKEN.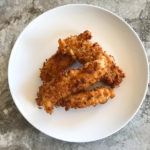 Coconut Cashew Chicken Strips
Ingredients
4

boneless skinless chicken breasts

1/2

cup

corn starch

1/2

teaspoon

paprika

1

teaspoon

kosher salt

1/4

teaspoon

cayenne pepper

1/2

teaspoon

garlic powder

2

large eggs

Juice of 1 lime

1

cup

unsweetened coconut flakes

1/2

cup

raw cashews

chopped*

Canola oil

for frying
Instructions
Start by slicing your chicken into strips on the diagonal. You want 4 or 5 strips per chicken breast (these are small so there is a high crunch-per-bite ratio, and they cook faster).

Set up your dredging station. Combine cornstarch with paprika, salt, cayenne pepper, and garlic powder on a large plate. Whisk your egg and lime juice together in a shallow bowl. Combine coconut flakes and cashews on another large plate.

Begin heating about 2 inches of oil (to about 350 degrees) over medium medium-high heat in a heavy-bottomed pot, cast iron skillet, or Dutch oven.

Start dredging your chicken. Coat it in the cornstarch mixture, then dip in your egg mixture, and then roll in the coconut/cashew mixture.

Once your oil is hot and all of your chicken is coated, begin frying your chicken. You'll need to do this in batches so that you don't overcrowd your oil (about 5 strips fit in a 12″ skillet at one time). Gently place each chicken strip into the oil, one by one.

Allow the chicken to cook through, flipping part way, about 2 minutes per side. If the coconut is turning ver dark brown or black, you need to turn your oil temperature down. Cooked chicken should have an internal temperature of 165 degrees F, and be white in the middle. (See notes.)

Once done, transfer the chicken to a cooling rack lined with paper towels.

Continue frying until all chicken is done. Serve hot with favorite dipping sauce.
Recipe Notes
*I found these at Trader Joe's. They don't have to be raw, but roasted and/or salted cashews will have a different and more overpowering flavor.
The key to good meat is getting the correct internal temperature. The best way to do this is with a digital instant-read thermometer. You should stick your thermometer into the thickest part of the chicken strip, so the probe is right in the middle. For chicken, the temperature needs to be at least 165 degrees F.