Pepper bombs are everything good about an appetizer: they're salty and savory and creamy and cheesy and and bacon-y. Basically, they're the best!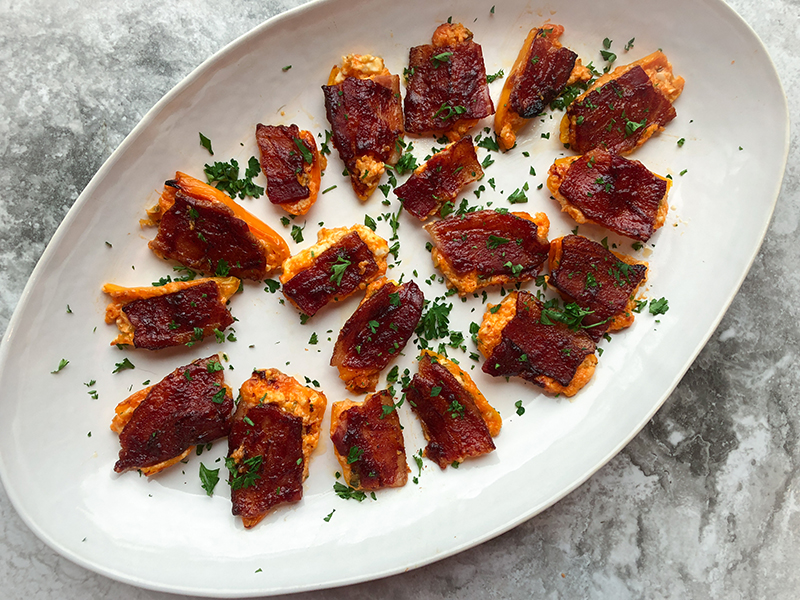 This recipe has been improved upon over and over for years. What started as basic jalapeño poppers with cream cheese, dried garlic and onion, and bacon, has evolved into this masterpiece. I make these every Thanksgiving, and it's always the first thing people ask me if I am planning to make for parties. So, trust me and my friends/family when I say it's good!
My husband and I frequently just eat these on their own instead of dinner. Because that's what adulthood is right? Sometimes you eat a salad for dinner, and sometimes you eat your weight in cheese instead. Life is about balance (and yoga pants with elastic waistbands).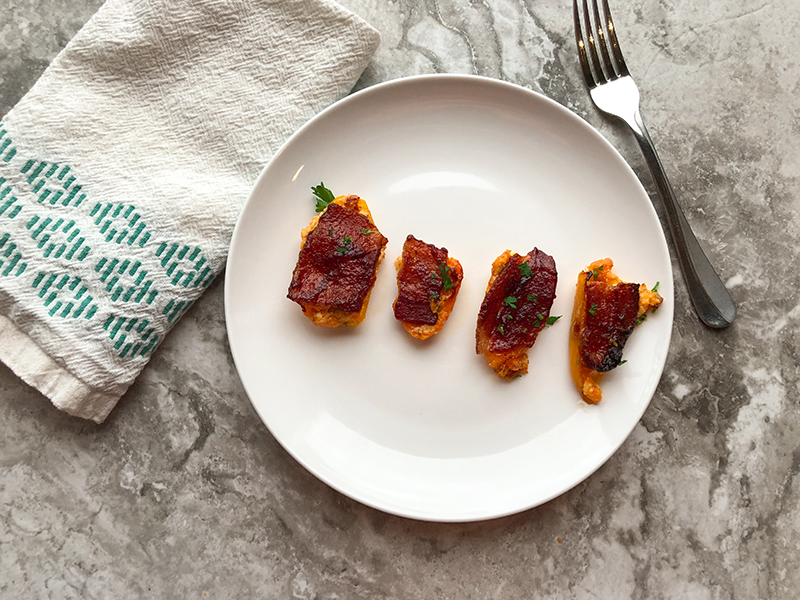 This recipe is also SUPER adaptable. You can add and remove things as you see fit, use different types of peppers, change up the barbecue sauce you use, or do whatever else your heart desires! But this is the way that they are my absolute favorite!
Some notes on the peppers….
Even though I frequently call this dish jalapeño poppers, I don't actually use jalapeños anymore. Good quality jalapeños are difficult to find in large quantities, they are inconsistently spicy, and they're hard to core and remove all of the seeds and ribs from. Not to mention I have to dig out gloves every time I'm handling that many at once. No thanks. So instead I use sweet mini peppers! Super quick to clean, and they have a great flavor!
If you want to use jalapeños for this, you definitely can. Sweet mini peppers are just my preference. I add Sriracha to the cream cheese mixture to give it a little kick! You may want to leave the Sriracha out of the recipe if you use jalapeños though.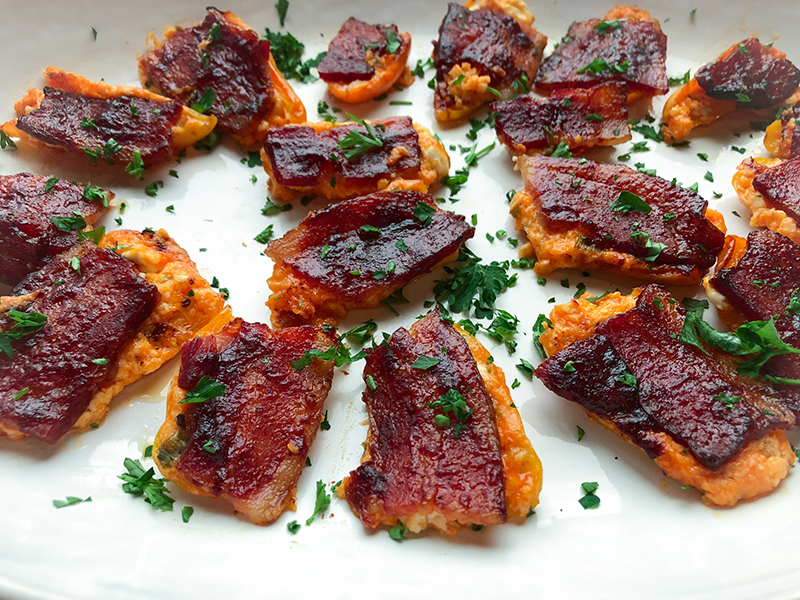 Some notes on the bacon….
I use thick cut bacon and cut it up into pieces and lay them on top of each pepper. It's really hard to get bacon totally crispy in the oven when you wrap it all the way around the peppers, but you can go that route if you want to (although, if you do, I recommend thin center cut bacon instead). I used to use bacon bits, but it's really hard to find gluten free bacon bits, but if you're not gluten free, this is a great short cut!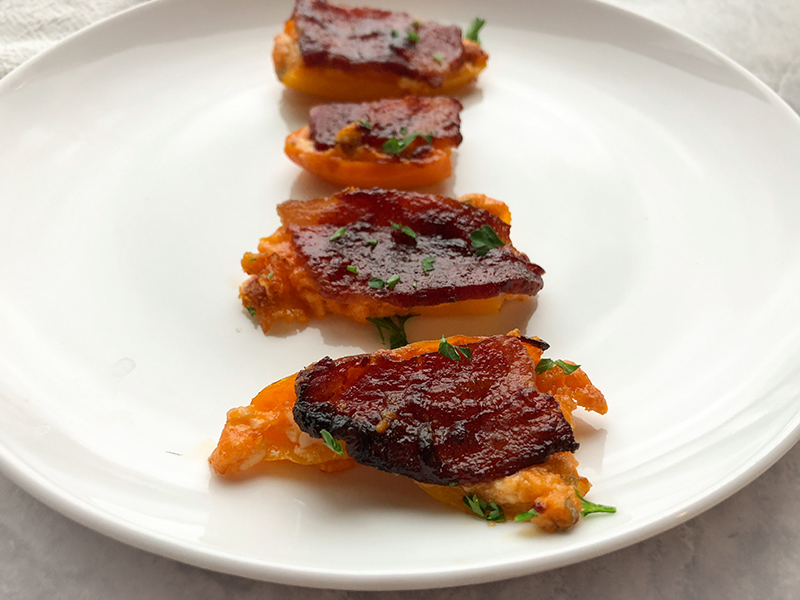 These are great for food at a gluten free party because they don't have gluten in them to begin with, and they're SO good. They also travel well, so they're great for potlucks.
If you want to make them ahead, just assemble them completely and refrigerate, and then bake before serving. They also reheat well, although some of the filling will come out when they're re-heated.
One last note, you should use a block of cream cheese for this and not the tubs of spreadable cream cheese. Those have a thinner consistency and extra ingredients, so the filling won't stay in place in the oven. Ask me how I know.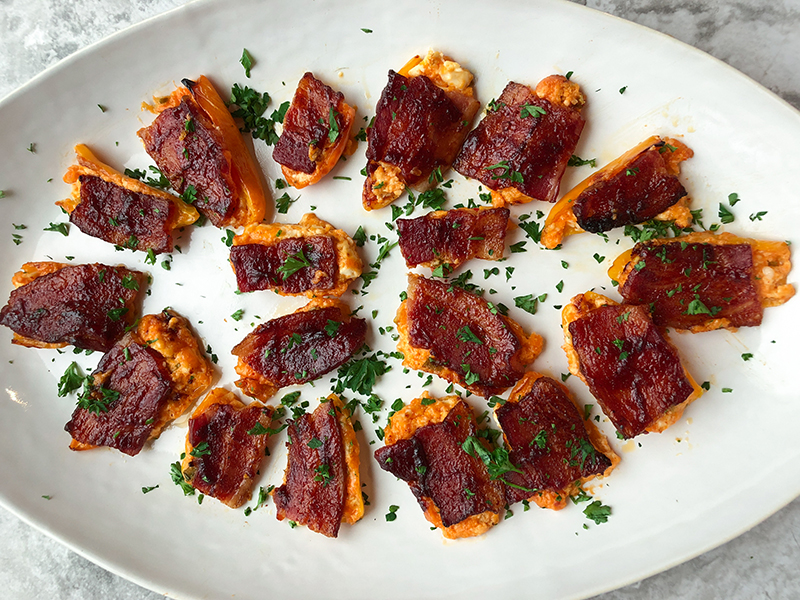 Here's the recipe: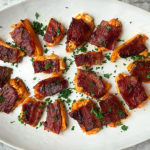 Pepper Bombs
Total Time
1
hour
15
minutes
Ingredients
1

lb

mini sweet peppers

about 18 peppers, sliced in half lengthwise, ribs and seeds removed

8

oz

cream cheese

8

oz

extra sharp cheddar

grated

4

cloves

of garlic

minced

4

scallions

green onions, sliced thinly

1

tablespoon

Sriracha

Kosher salt

to taste (about 1/2 teaspoon)

8

slices

thick cut bacon

cut into 5 pieces each

1/4

cup

barbecue sauce
Instructions
Preheat your oven to 375 degrees F.

Mix together cream cheese, cheddar cheese, garlic, scallions, and Sriracha, making sure to incorporate everything, but not over-mixing. (If you over-mix, the cheese breaks in the oven and doesn't stay put as well.)

Spoon cream cheese mixture into pepper halves, and place them on a baking sheet. Sprinkle the tops with kosher salt.

Lay a piece of bacon on each pepper and gently press it down into the cream cheese mixture so it stays in place. Then lightly brush on the barbecue sauce over the bacon.

Bake for 45 minutes, or until bacon is crisp and peppers are soft. Serve immediately.
Recipe Notes
It's best to use a block of cream cheese for this and not the spreadable stuff in a tub. It has a different consistency and more ingredients so it doesn't stay in place in the oven.
It's also best to use a block of cheese and grate it yourself. Pre-shredded cheese has cellulose in it to keep it from clumping, but that messes with the texture of the filling here!
I used Stubb's Sweet Heat barbecue sauce in this recipe. You can use your favorite sauce in this recipe, or grab some Stubb's (the Sweet Heat flavor is gluten free).