Pimento cheese spread is the perfect party appetizer. It's super easy to make, and it can be used in a variety of ways. If you're expecting guests (or even if they show up without warning), a quick batch of pimento cheese is the perfect food to put out.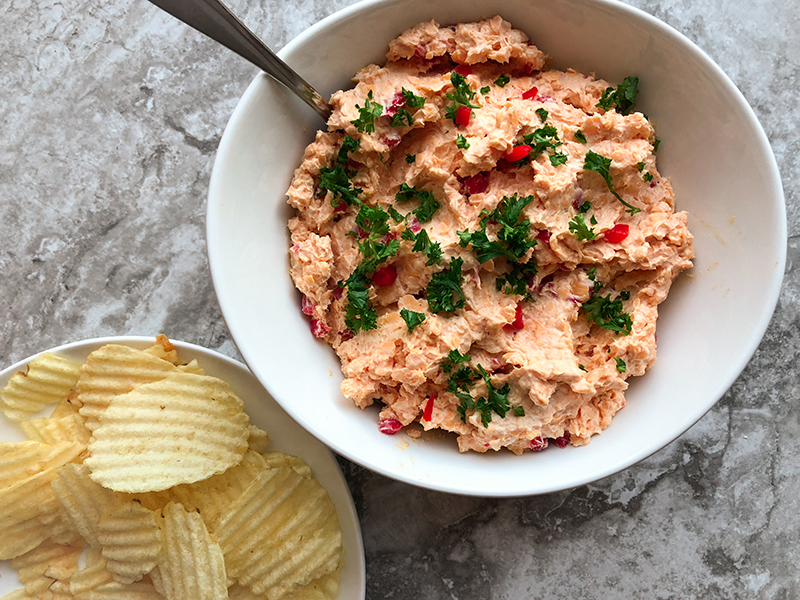 I'm not Southern, so I will admit that I'm not exactly an expert on pimento cheese since I didn't grow up eating it – but I think I probably qualify as an expert on cheese, and I know when something tastes good. So that's close enough, right?
Being not Southern, that also means that I did not grow up using Duke's mayo. I've always bought Hellman's (which is also known as Best Foods in some areas). But since this is such a Southern recipe at heart, and I am all about authenticity in cooking, I went for Duke's!
If you've ever talked to a Southerner about their preferred brand of mayo, they will sing the gospel of Duke's mayo. So, being always on the lookout for the best of the best in ingredients, I tried Duke's and Hellman's side by side to see if it really is as good as they say…. and the verdict is that they really taste the same. I know, I know. But put away your pitchforks.
Duke's has a thicker consistency, and I think it has a higher oil to egg ratio than Hellman's, buuttt if you gave me a blind taste test I wouldn't be able to tell which was which – and I'm the type of person who can taste the difference between different brands of milk. So, like, I'm not kidding when I say they taste the same. If you already have Hellman's, use that. If you want to be authentic, use Duke's.
As for which brand I prefer? Well, Duke's is slightly cheaper, so I will probably keep buying that when it's available!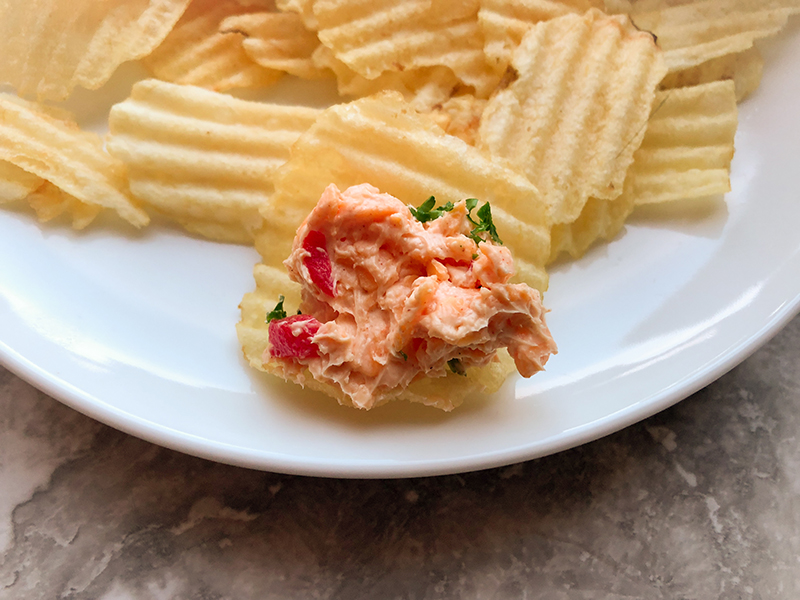 Anyway, back to the pimento cheese.
This recipe is pretty adaptable. You can use a mix of any types of cheeses, but I would stick with at least half extra sharp cheddar. Here are some ideas:
Substitute half of the cheddar with pepper jack cheese, gruyere, or Swiss cheese
Substitute 1/4th of the cheddar with smoked gouda
Use cayenne pepper instead of paprika for a spicy kick
Add chopped pickled jalapeños, and substitute red wine vinegar with brine from the jar
Add chopped sun-dried tomatoes
There are so many ways to use pimento cheese. I like to serve it as a spread with potato chips. Crackers are a bit more classic, but it's not easy to find a truly good gluten free cracker. Here are some alternative serving ideas:
Celery sticks
Tortilla chips
Toasted baguette slices (For gluten free baguettes, I like Against The Grain brand)
Pimento cheese sandwich (spread between two slices of white bread, can be served cold or as a grilled cheese)
Baked potato topping (I can vouch that this is truly amazing with some salt and pepper on a hot baked potato)
On top of your favorite burger
Stuffed inside a baked chicken breast
Baked or warmed in the crockpot and served as a hot dip
If you like to eat pimento cheese some other way, let me know in the comments!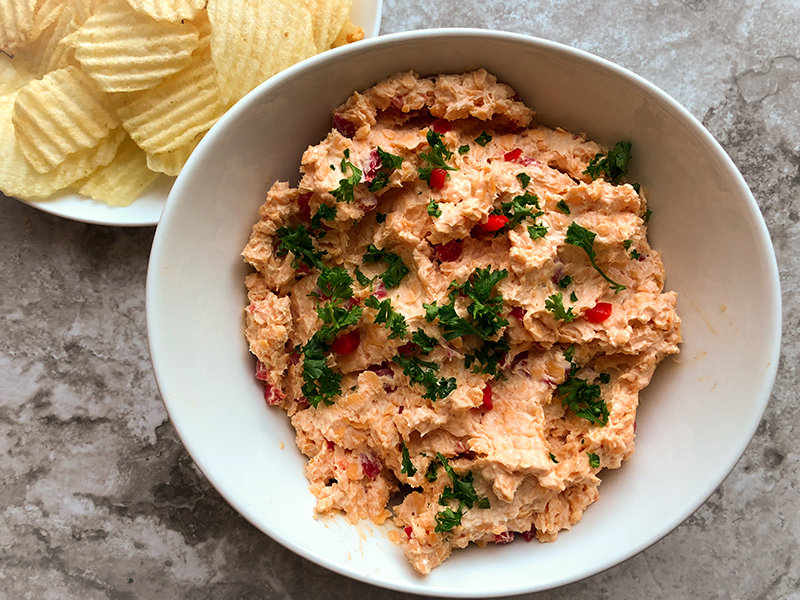 Okay, I'm done rambling. Here's the recipe.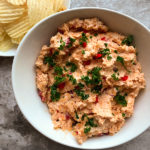 Pimento Cheese Spread
Ingredients
1 8

oz

block cream cheese

softened

1/2

cup

mayonnaise

I used Duke's

16

oz

extra sharp cheddar cheese

grated

1 4

oz

jar diced pimentos

drained

1

teaspoon

red wine vinegar

1/2

teaspoon

garlic powder

1/2

teaspoon

onion powder

1/2

teaspoon

mustard powder

1/2

teaspoon

paprika

2-4

dashes hot sauce

I used Frank's

Chopped fresh parsley

optional
Instructions
Combine cream cheese and mayonnaise in a large mixing bowl, or the bowl of your stand mixer and beat on medium until smooth.

Add in all other ingredients and beat until just combined. You can adjust the amount of hot sauce based on your tastes. Garnish with parsley, if desired.

Serve with potato chips.
Recipe Notes
I used Duke's mayonnaise, but Hellman's would also work. The quality of mayonnaise you use in this recipe matters. Do not use miracle whip, as it will not taste the same.
I highly recommend that you grate your own cheese for this, because the added starches/cellulose in pre-grated cheese will change the texture of this recipe.