Anyone who missed sandwiches after going gluten free, please stand up. That's, like, basically everyone, right?
Yeah, I thought so.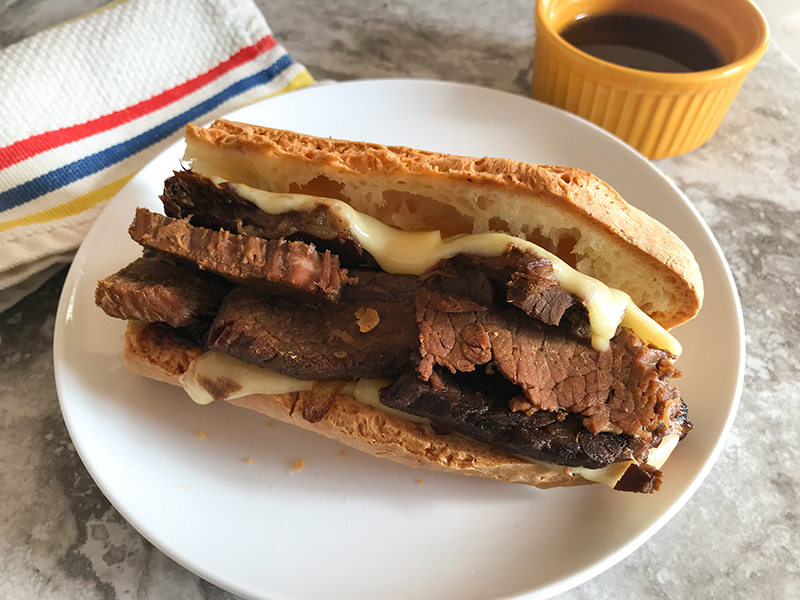 Thats because it's SO intimidating when you first go gluten free to convert your favorite recipes. You don't know what bread is good and for what, you don't know which sandwich fillings are okay, and maybe nothing in your entire kitchen is even safe for you to eat. And if you're not someone who is used to cooking the majority of your meals it's even worse because it's like you're re-learning how to be an adult and feed yourself.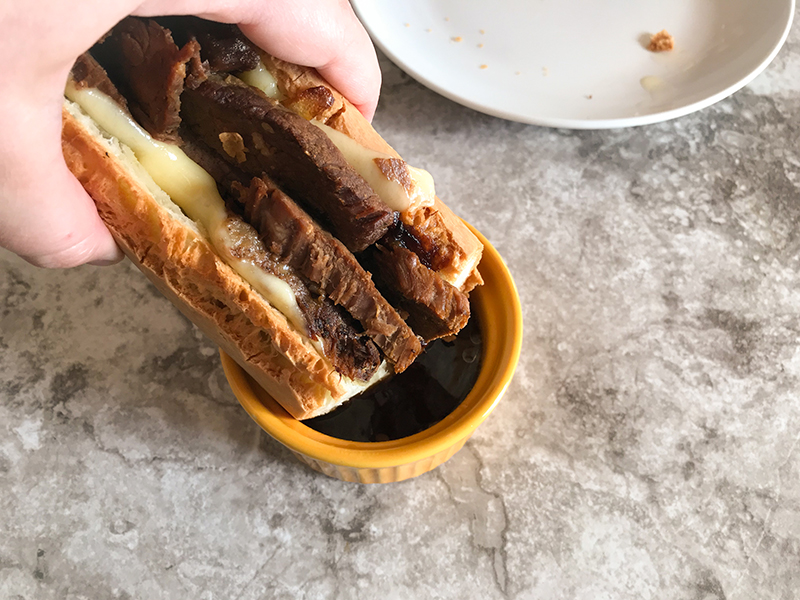 Well, no more! Because this French Dip recipe is easy and amazing and 100% gluten free. Although, if you don't eat gluten free, it's totally easy to adapt to a non-GF diet.
It's seasoned roast beef simmered in a savory broth, topped with melted Swiss cheese and caramelized onions on a crusty baguette. It's everything a good sandwich should be. And the au jus is out of this world.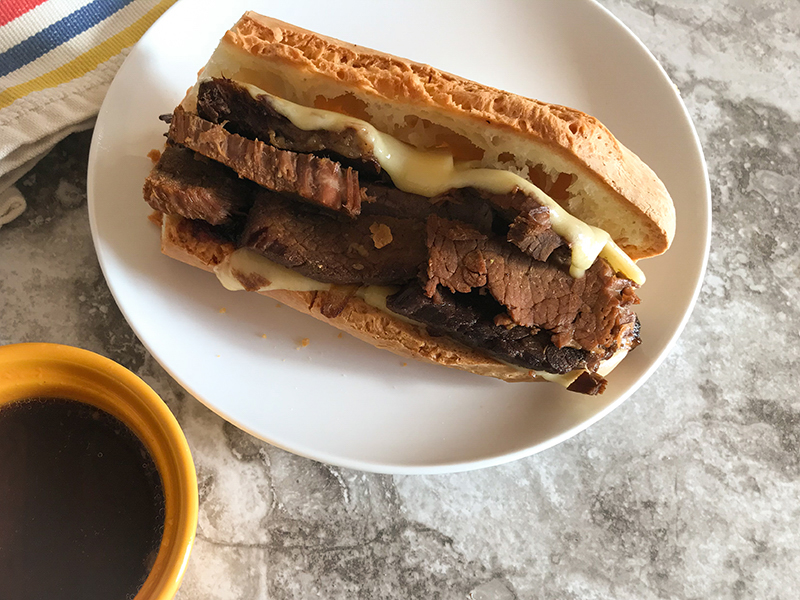 And as if it wasn't already great, it's basically a set it and forget it recipe. You don't even need to brown the beef first (and I'm a browning purist, so believe me when I say that it's unnecessary in this recipe). One pot. Easy!
I debated not posting this recipe because it's not exactly hard to convert a sandwich recipe from any blog or book out there, but then I thought, no, this should be here! Because it's good comfort food and that's what people need when they first undertake this diet. Or all the time, because the need for comfort food never dies.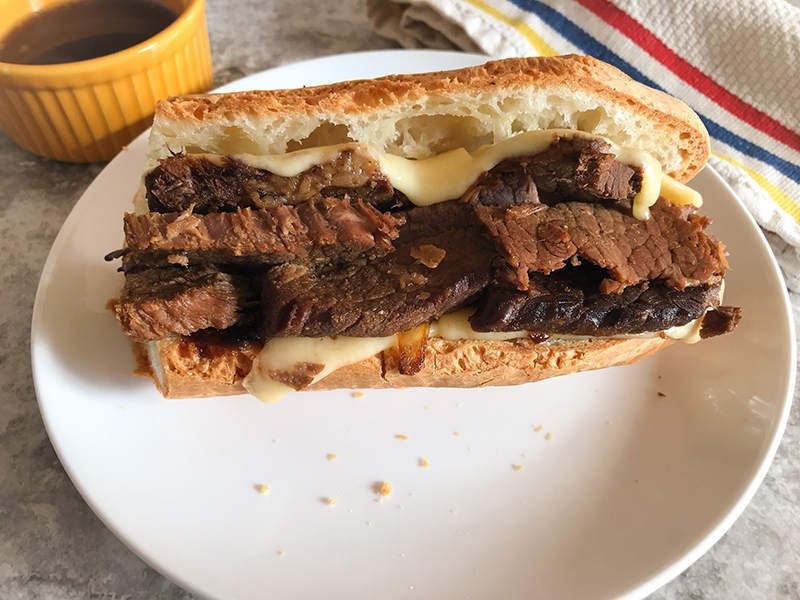 And, honestly, this French Dip is so good you'll temporarily forget that you are even eating gluten free, and ascend to the heavens.
Okay, maybe not that last part. But if it were possible, this French Dip would cause it.
Plus the customization options are never ending. I included optional caramelized onions in the recipe, but you could also add:
Garlic butter
Roasted garlic
Sauteed peppers
Horseradish
Different cheeses (my recipe calls for swiss, but provolone, cheddar, pepper jack, or fresh mozzarella would all be good!)
Pepperoncini peppers
And so much more!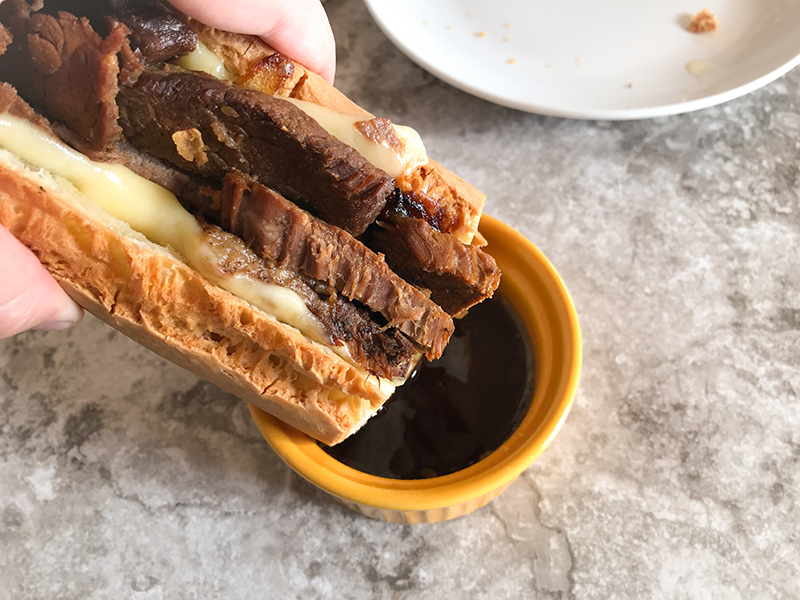 This recipe can also be made in the slow cooker, but I can't plan ahead far enough to do anything in a slow cooker, so I used a dutch oven. If you want to use a slow cooker, I'm sure it will work just as well! Since I've never made it in a slow cooker, I'm not going to provide instructions to make it that way, but you're smart and just use your best judgement on cooking times!
Alright, let's get going, shall we?
This recipe has been adapted over many uses and to be gluten free from a recipe by Carlsbad Cravings.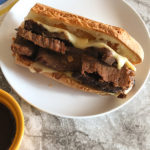 French Dips
Cook Time
3
hours
30
minutes
Total Time
3
hours
40
minutes
Ingredients
Roast Beef and Au Jus
3

lb

beef roast

chuck or bottom round

2

cups

beef broth

1/3

cup

soy sauce or GF Tamari**

1

cup

Coca Cola

1

tablespoon

chicken broth base

See notes.

1

teaspoon

garlic powder

1

teaspoon

onion powder

1/4

teaspoon

ground oregano

1/4

teaspoon

dried thyme

1/4

teaspoon

pepper
Caramelized Onions (optional)
1

large yellow onion

julienned

1

teaspoon

kosher salt

3

tablespoons

unsalted butter

1.5

tablespoons

canola oil

1

teaspoon

salt

1

tablespoon

water
To Assemble
2

crusty baguettes or 4 hoagie sandwich rolls

See notes for gluten free recommendation*

8

slices

swiss cheese

2

tablespoons

unsalted butter
Instructions
Preheat oven to 325F.

Add beef roast, broth, soy sauce, Coca Cola, chicken base, garlic powder, onion powder, oregano, thyme, and pepper to a dutch oven or heavy-bottomed oven safe pot.

Stir juices to combine, cover, and put in oven. If you want shredded beef, cook for 3 hours, or until tender, shred meat, then add it back to juices and put in oven for an additional 30 minutes. For sliced beef, cook for 2.5 hours, then (carefully!) remove beef to a cutting board and thinly slice against the grain, then put the slices back into the juices and cook for 1 hour.

During the last 30 minutes, make your caramelized onions, if using.

Melt butter with canola oil (the added oil helps keep the butter from burning) in a pan over medium heat.

Once melted, add your onions and salt. Cook onions until they start to brown, stirring occasionally.

Continue to cook onions until they are soft and deep brown in color, stirring regularly, about 30 minutes. Be careful not to let them burn. You may need to adjust the temperature if they are scorching or not browning.

Once brown, add your sugar and stir. Remove from heat and add the water.

To serve, split and butter your bread, then layer on cheese, onions, and meat. Place on baking sheet under broiler for 3-5 minutes to melt cheese. Serve with cooking juices for dipping.
Recipe Notes
*I used Against The Grain gluten-free baguettes. They come in a package of 2, and each baguette makes 2 sandwiches. I found them in the frozen bread section of Whole Foods.
**Not all Tamari is gluten free, and not all gluten free soy sauce is created equal. Check your labels and stay away from things with added sugar.
Chicken broth base is either powdered or a paste, similar to bouillon cubes, but with a more concentrated flavor. Orrington Farms and Better Than Bouillon make good gluten free versions. You can also use beef base, but personally, I've never met a beef base I liked as much as chicken base, even in beefy recipes.
I did not add any additional salt to this recipe because the beef broth, chicken base, and soy sauce add enough salt, but if you use low/no sodium versions of these, you may need to salt to taste.