This is my favorite potato salad recipe! I fell in love with it once when my grandma made it, and asked for the recipe, which I promptly lost, and then finally re-discovered and made. It's fresh and bursting with flavor, and you can customize it to your tastes.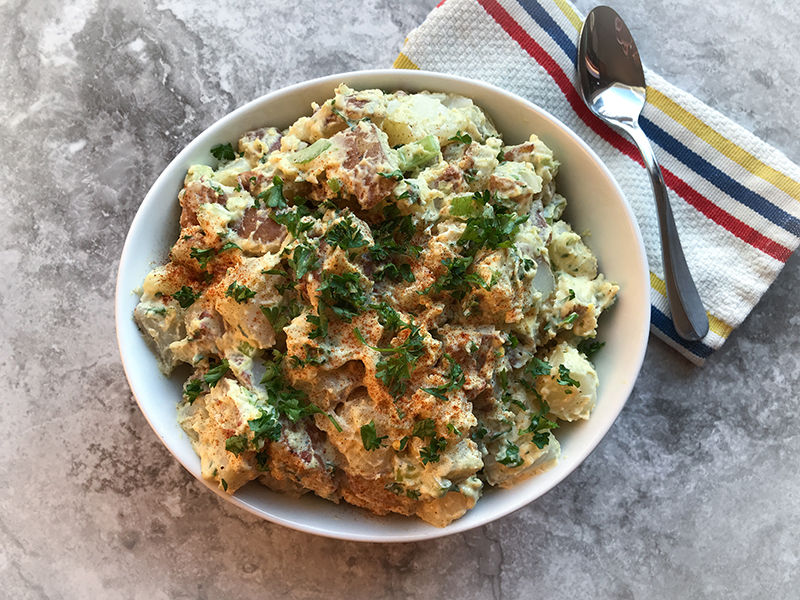 I'll give you the recipe and some notes on ingredients eventually, but first I have a story to tell.
I'm not picky in the traditional sense. You will never catch me refusing to eat something just because I think it looks weird. I will (almost) always try something I've never had before. And I'll never dictate what restaurant we go to, or what you serve at a dinner party, based on my own likes and dislikes.
HOWEVER, I kind of expect the food I make to be perfect, and I'm disappointed when it's not. If it's in my own kitchen, if I can't make it "right", a lot of the time I won't make it at all. Want jalapeno poppers and don't have any green onions? Scratch it. Craving lasagna, but don't have ricotta? Meh. I just want good food, and I don't like to compromise about it.
So, that brings us to this potato salad. I've been doing grocery pickup lately and I LOVE it (Hello, have you all tried this?! It's amazing. Spend 30 minutes shopping online – which includes the time needed to Google which products are gluten free, set a pickup time, and then go get them. A-M-A-Z-I-N-G! Life changing, honestly.), but this past time, there were leeks in my bag. Mystery leeks that I didn't order.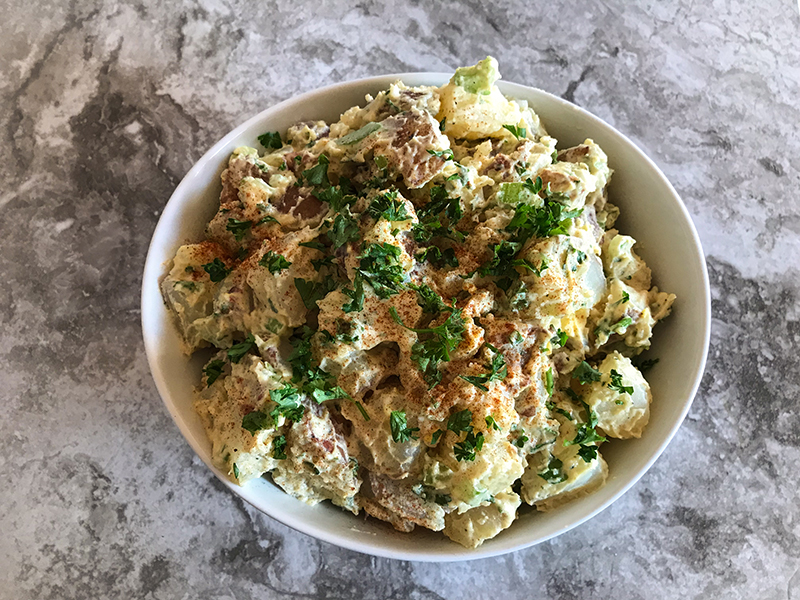 So, okay, whatever. Someone else is missing leeks and I'll make potato leek soup. I THOUGHT I double checked and that everything I DID order was present. Thought being the key word.
Because a few days later when I had boiled potatoes cooling, and was waiting on some hardboiled eggs to finish up to make this potato salad – I reached for the parsley and ?!?!?!?!
Long story short, I had to leave everything on the counter mid-potato salad to buy parsley. (It HAD to be perfect, remember.) Don't fret, though, I discovered parsley is right next to the leeks, so probably it was a mistake and there isn't another shopper out there half way through making a spinach and leek frittata discovering that they have parsley instead of leeks.
I got home with my parsley and all was well. So lets talk ingredients, shall we? What makes good American potato salad?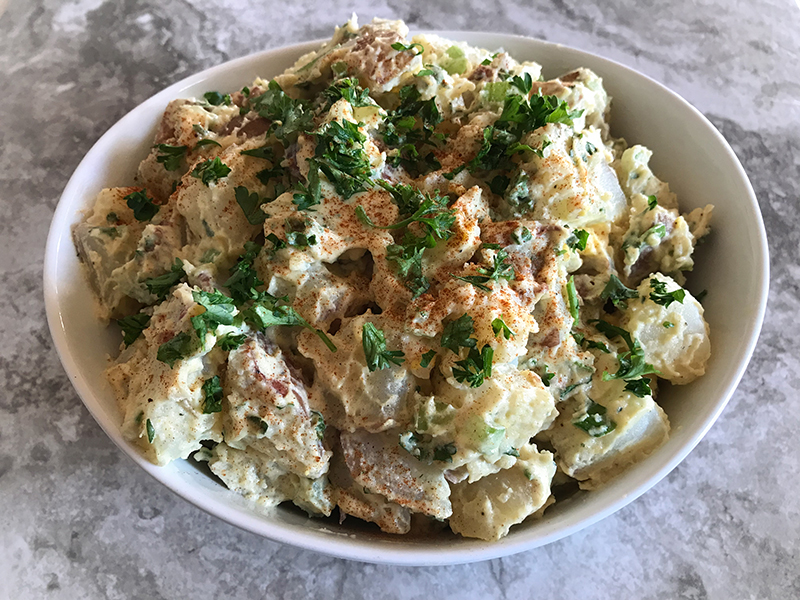 Well….
For starters, hardboiled eggs. In my opinion, you just can't have eggless potato salad. It's not right.
But, circling back to being (not usually) picky, you know what food DOES give me the squicks on almost every occasion? Egg whites. Yuck x1000000. Big pieces of egg white will ruin a potato salad for me.
So, I use the hardboiled yolks in my potato salad and feed the whites to the dog. (They're good protein!)
I fully recommend you embrace the silky, rich amazingness that is crumbled yolks minus the rubbery egg white. Because despite my aversion to egg whites, I think doing yolks only brings a better texture, flavor, and smell to the potato salad. It provides a richness and full flavor, without the sulfur smell of the whites, and it's truly indulgent. But if you don't have a dog to feed them to and can't stomach the thought of throwing them away – or if you're someone who -gasp- likes egg whites, feel free to chop them up and include them in this salad.
But, like, life is too short to suffer through egg whites. Seriously.
Next up is mustard. You need mustard. Dijon or spicy brown. Although you could get fancy with a honey mustard or a flavored mustard if you're feeling crazy! I don't think standard yellow mustard gives enough depth of flavor, so I skip that one.
And then red wine vinegar. It just gives this potato salad the best flavor and makes it a dish that people want the recipe for, rather than one they begrudgingly eat at a family picnic because Aunt Gertrude always insists on bringing heavy, flavorless potato salad.
If you don't have red wine vinegar, I truly recommend you buy some for this recipe! But if grocery pickup gives you leeks instead of your precious red wine vinegar, apple cider vinegar would be the next best thing.
Oh, and let's talk potatoes! You really want a waxy variety, like red potatoes. They have a thin skin which is good for applications like potato salad where you generally leave the skin on, and they are low starch so they maintain their shape when boiled.
You could also use a medium starch potato like Yukon Gold's, which would have a more buttery flavor and vibrant yellow color. These potatoes will fall apart a bit more though, so you're not going to get nicely defined potato chunks.
Do NOT use regular ol' Russet potatoes. They do not hold up to potato salad and they'll spread their starchy, soupy, potato crumbles all over the place. Save these for things like mashed potatoes where they can truly shine.
The rest of the ingredients are pretty standard for flavor, texture, or both. This is a flexible recipe and would stand up well to additional ingredients. Some suggestions for other add-ins:
Halved cherry tomatoes
Crumbled bacon
Pimentos
Sweet pickle relish, or chopped bread and butter pickles
Diced red onion instead of green onions
Chopped fresh dill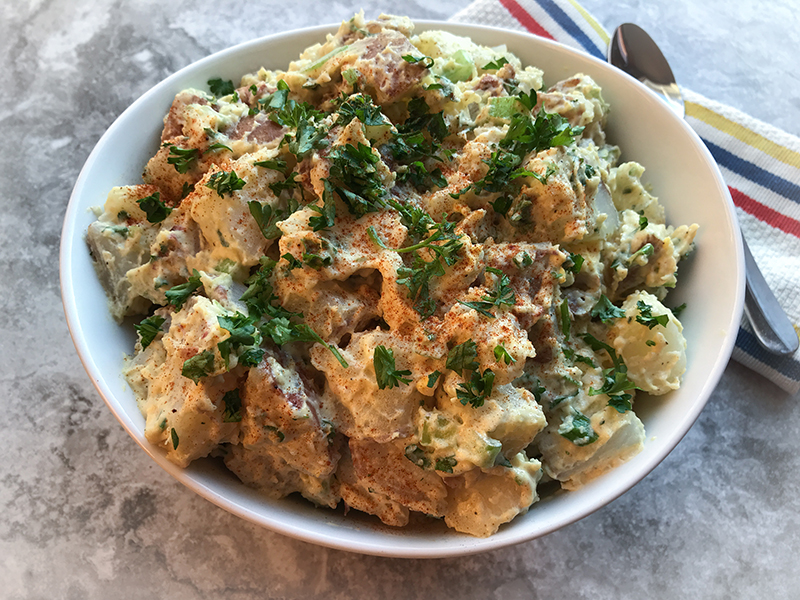 Alright, lets get to the recipe, shall we?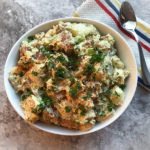 American-Style Potato Salad
Ingredients
3

lbs

of red waxy potatoes

skin on

1

tablespoon

kosher salt

I used Morton's

3/4

cup

mayonnaise*

2

tablespoons

spicy brown mustard

2

tablespoons

red wine vinegar

3

hardboiled eggs or egg yolk only

finely diced (See notes for instructions, if needed.)

2

celery stalks

finely diced

2

scallions (green onions)

finely diced

1/4

cup

minced curly parsley

Salt and pepper

to taste

Paprika

sprinkle for garnish, optional
Instructions
Put your potatoes in a large stockpot with enough cold water to cover potatoes by about an inch and 1 tablespoon salt.

Bring pot to a boil, and then reduce heat to medium and let simmer until potatoes are easily pierced with a fork. Drain and set aside to cook slightly.

Once cooled enough to touch, cut potatoes into bite-sized pieces and place in a large bowl.

Fold in mayonnaise, spicy brown mustard, and red wine vinegar, and stir until smooth.

Add your hardboiled eggs (I like to use yolks only, but you can use the full eggs if you prefer), celery, scallions, and parsley. Stir to combine.

Add salt and pepper to taste. Garnish with more parsley and some paprika if desired.
Recipe Notes
*I used Hellman's mayonnaise.
For hardboiled eggs: Place eggs in a pot of cold water and turn heat to high. Bring to a boil and then reduce to low and let the eggs continue to cook for 14 minutes. Remove from pot and run under cold water to stop cooking and make them easier to peel.