Nashville hot chicken is the stuff of dreams for fried chicken lovers and spice-addicts alike. It's hot as hell, it's slightly sweet, it's smoky, and it's SO FREAKING GOOD.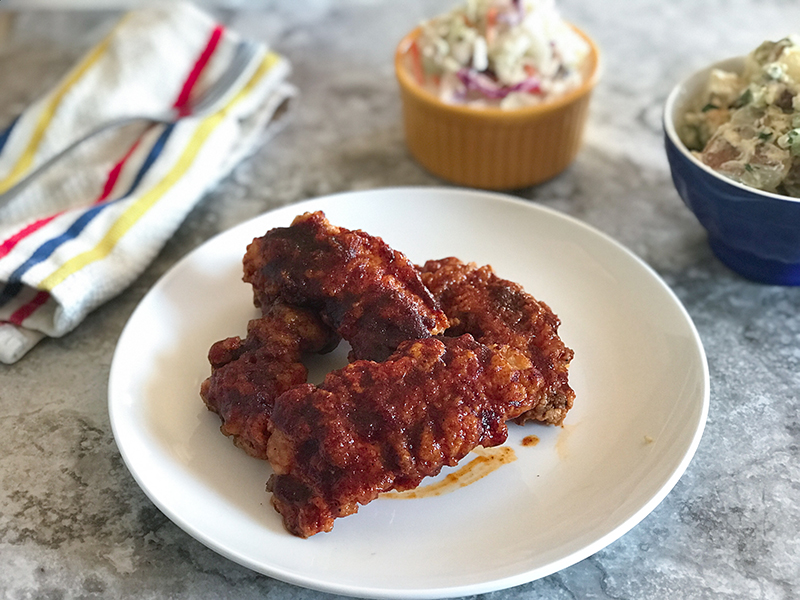 Food legend has it that Nashville hot chicken was first made in the 1930's. See, Thornton Prince was good-looking and had a reputation for being a bit of a lady's man, if you catch my drift. Of course, the woman in his life was none too happy about his frequent nights out on the town. The story goes that he stepped out on her one too many times, and instead of looking the other way, or leaving him, she decided to get even.
One morning after he had stayed out all night the night before, she made him his favorite breakfast – fried chicken – but with all the spice she could possibly pack into it. She thought that it would set his mouth on fire and be so inedible that he would learn his lesson right then and there.
What she didn't foresee was that he ended up LOVING it. He loved it so much that he eventually opened The BBQ Chicken Shack and started serving the spicy fried chicken to the public. No one knows exactly what she put into her original revenge-by-chicken dish, but the restaurant he opened is still open in Nashville today. Although, it's now known as Prince's Hot Chicken Shack and it's run by his great-niece Andre Prince Jeffries.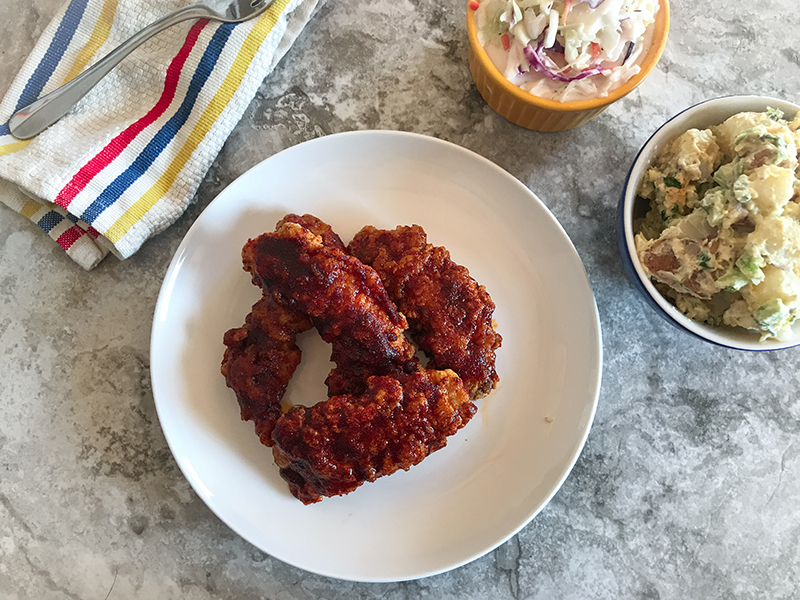 (Quick side note: For more hot chicken history, I definitely recommend you checkout The Sporkful podcast, episode titled "As Hot Chicken Gets Hotter, Who Benefits?". This isn't sponsored, I just thought it was super interesting!)
There are now a ton of hot chicken restaurants all over Nashville and the country, serving up their own take on the spicy fried chicken. But for gluten free eaters, that can be a bit of a challenge. Fried chicken isn't usually gluten free, nor is the fryer it's cooked in, or the slice of white bread it's traditionally served on. So that brings us to here. One Celiac spicy chicken lover to another!
If you've been following my Nashville hot chicken recipe development saga on Instagram, then you already know that Nashville hot chicken is one of my top 3 ways to set my face on fire. My love affair with spicy food started as an adult (as a kid I couldn't even handle 1 Hot Cheeto, but that's a story for another time), and has only gotten more intense over time as I've presumably burned more and more of my taste buds off. Don't get me wrong, I'm not insane. You won't catch me eating a whole habanero just to prove I can, and I never order past a 4 or 5 at a Thai restaurant, but I can't turn down a good slow-building spice.
So it makes sense that I would fall head over heels for Nashville hot chicken.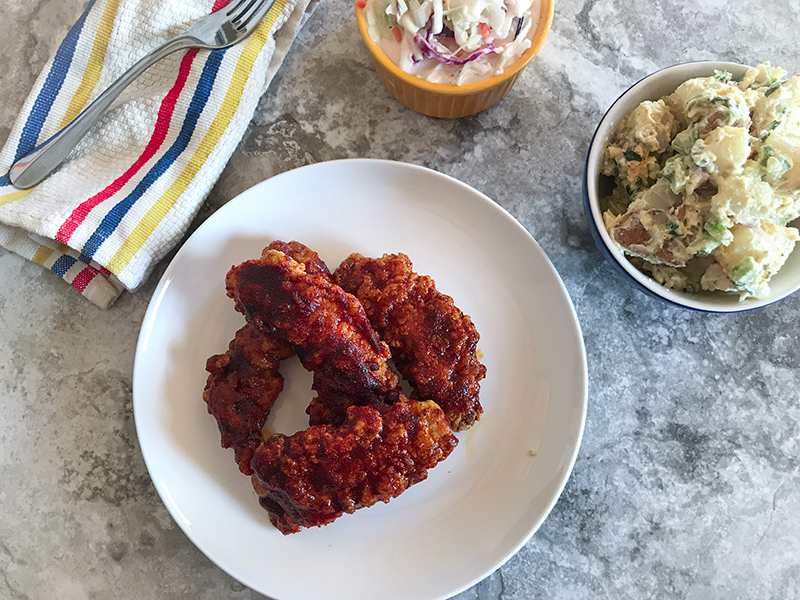 Obviously, I live nowhere near Nashville, so admittedly my first run-in with this spicy bird was at KFC. (I know, it's KFC, but, like, don't knock it 'til you try it because they did good.) That started my relationship with hot chicken, and up until my Celiac diagnosis, I ate it pretty regularly for lunch.
Since then I've eaten hot chicken all over the country including at Roost in Bozeman, MT (and let me tell you, they are NOT kidding about the spice levels at Roost!) and at Hattie B's in Nashville. I actually made sure that our last vacation routed through Nashville so that I could eat authentic hot chicken.
Unfortunately, between planning that trip and getting there, I discovered that I'm a celiac and fried chicken definitely doesn't fit into that diet. Luckily for me, Hattie B's offers gluten free options, and their grilled chicken strips are GF and still totally delicious. I'm still bummed that I didn't get to try to super classic Prince's chicken, but maybe someday they will add a GF option to their menu and I can plan another trip to Nashville to try it!
So, now that I am gluten free, and I live in Omaha where NO ONE offers GF hot chicken, the only option was to learn to make it myself! Several trials led me to this recipe, and guys, it does not disappoint.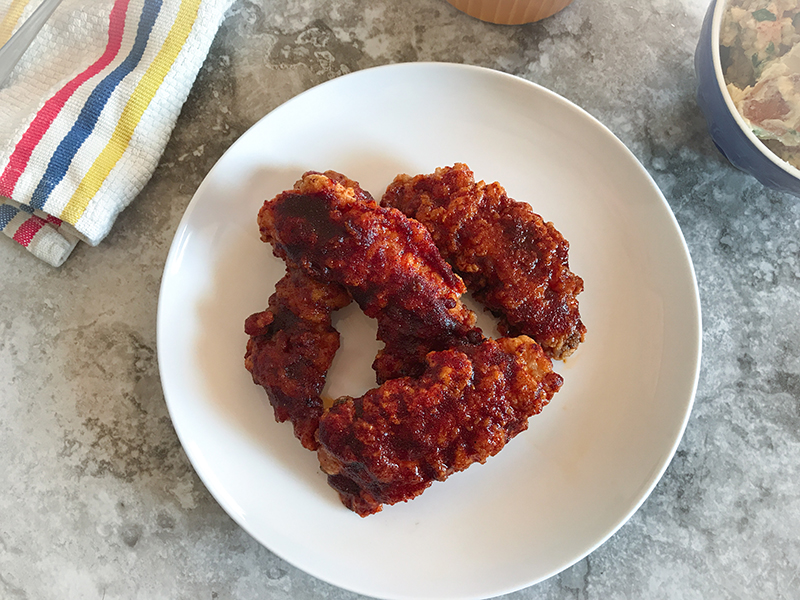 It's gluten free, crunchy, hot, flavorful, and everything I want it to be. It's perfect served with Coleslaw and American-Style Potato Salad, and pickle chips! (Also, yes, I totally forgot to photograph this recipe with pickle chips and by the time I realized, it was too late and we had devoured every last bite of this chicken. Next time!)
Let's start a fire!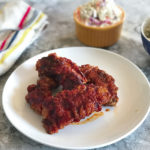 Nashville Hot Chicken Strips
Prep Time
1
hour
25
minutes
Total Time
1
hour
55
minutes
Ingredients
For the Chicken
4

boneless skinless chicken breasts

2

cups

buttermilk

2

tablespoons

vinegar-based hot sauce

(I like Franks Red Hot)

2

eggs

beaten

3/4

cup

gluten free flour blend WITHOUT xanthin gum

See notes

3/4

cup

cornstarch

3

tsp

kosher salt

I used Morton's

1

tsp

black pepper

Canola oil

for frying
For the Sauce
2

tsp

garlic powder

2

tsp

paprika

2

tsp

chili powder

2

tsp

mustard powder

3

tbsp

brown sugar

4

tbsp

cayenne pepper

1/2

cup

canola oil

leftover from frying
Instructions
Start by slicing your chicken breasts into thin strips. You should be cutting them on the diagonal, and get 4-5 strips per breast.

Put your chicken strips into a bowl with the buttermilk and hot sauce, and let marinate in the refrigerator for at least an hour, up to 8 hours.

Combine all of the spices for the sauce in a heatproof container and set aside. Do not add oil, because you will add frying oil later on.

Once ready, set up your dredging station. Have your bowl of chicken, a bowl with your beaten eggs, and a large, flat plate and combine your GF flour, cornstarch, salt, and pepper.

One at a time, pick up your chicken strips, letting the buttermilk drip off, dip them in the egg, and then into the flour mixture to coat. Keep going until all are coated. You may have some leftover flour, which you will want to keep next to you while cooking in case any of your chicken loses it's coating before frying. The coating will look more like a batter once the flour absorbs the egg. This is how it's supposed to look!

To fry, heat about 2 inches of canola oil over medium-high heat in a heavy bottomed pot or a dutch oven. You may have to adjust the temperature up or down during cooking if things are not cooking fast enough or burning. You want your oil to be about 350 degrees F.

Gently place chicken strips, one by one, into the hot oil and let them fry 2-3 minutes per side. Don't overcrowd your pot, do this in batches of 4 or 5 strips.

Once the chicken strips are done (the crust will be golden brown, and an instant read thermometer should read 165 in the thickest part of the chicken strip and the juices should run clear when cut), remove them to a paper towel-lined cooling rack.

Continue steps 7 and 8 until all chicken strips are cooked.

Next make your sauce. Take your combined spices are CAREFULLY spoon your hot frying oil into them, whisking after each spoonful. It will take about half a cup, and you want it to be the consistency of a thin paste – brushable, but not watery. The oil you use for this needs to be warm, or it will taste off, that's why you use frying oil.

Brush your sauce onto the chicken strips and serve with pickle chips and a slice of GF white bread underneath to soak up the sauce, if desired.
Recipe Notes
I like to use Bob's Red Mill Gluten Free All Purpose Baking Flour for this application (NOT Bob's Red Mill 1 to 1 Baking Flour), but any GF flour blend with no xanthin gum should work.
Not Gluten Free? You can substitute 1.5 cups all purpose flour for the GF flour blend and the cornstarch in this recipe.
It's a good idea to use fresh cayenne pepper for this recipe because it relies so heavily on the flavor of it and old spices = less flavor.