I seriously love this recipe. I've made it for birthdays and get togethers and dinner parties, and I love any excuse to pull out this recipe and impress people.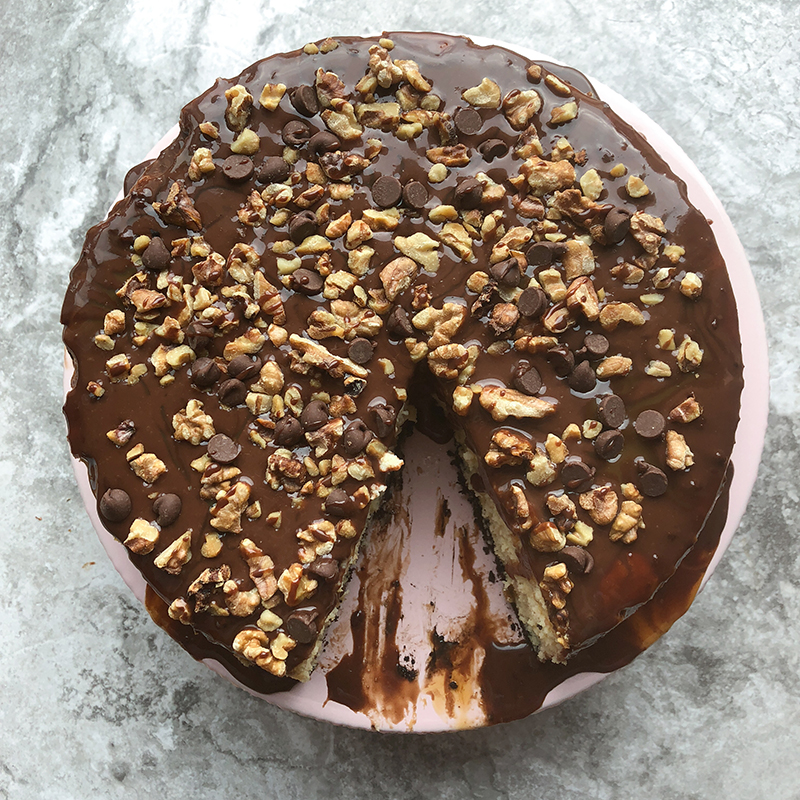 It's a million dollar cheesecake! Well, actually it's a $40 cheesecake. Because that's what I usually charge people when I make it for them.
Everyone loves it, and I'm not just saying that because it's on my blog and I feel obligated. If people didn't love it, they wouldn't shell out so much money for it. It's silky, it tastes great, and it looks like it rolled out of a fancy restaurant with little to no effort on my part – which is my favorite type of dessert!
It's also pretty easy to make, even if it looks intimidating, and since I've made it a trillion times, I've given you overly-detailed instructions to make sure your cheesecake looks even better than the picture ;). Up until now this recipe was a closely guarded secret, but now it's also yours to make and to share and to impress your guests with.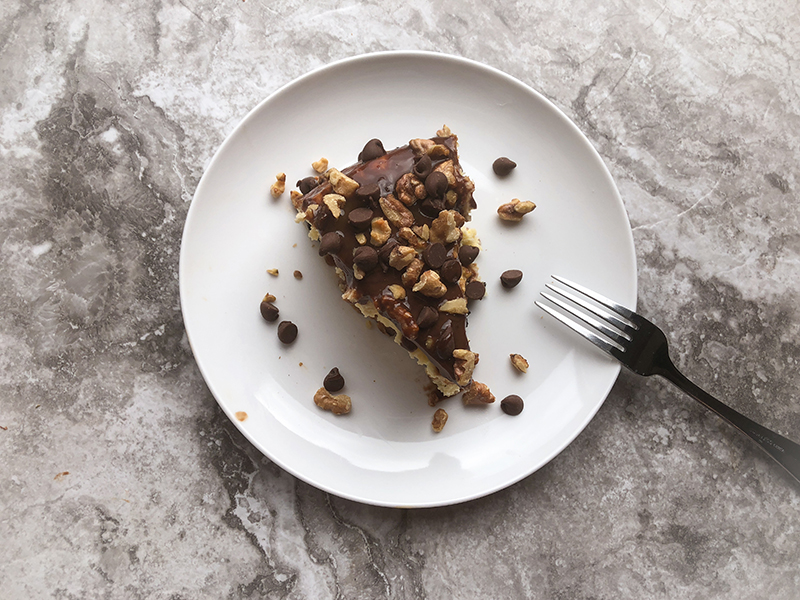 Normally I'm a big believer in giving people recipes freely (I guess that's kind of duh, because I have this blog!), and I HATE when people leave out their "secret ingredient" when they share a recipe. Like, that's just so unfair – why even share it then? But, call me selfish if you want to, I've never given anyone this recipe because if they knew how to make it, then they wouldn't buy it from me.
However, since going gluten free, I don't bake for a profit anymore. I still love baking, and I know people still love eating, and lets be honest, if I didn't tell them, no one would even know this cheesecake was gluten free. Buuttt in general, gluten free baking is more expensive than regular baking, and I'm not going to pass that cost off on the customer if they're not gluten free. So these days I only bake for fun.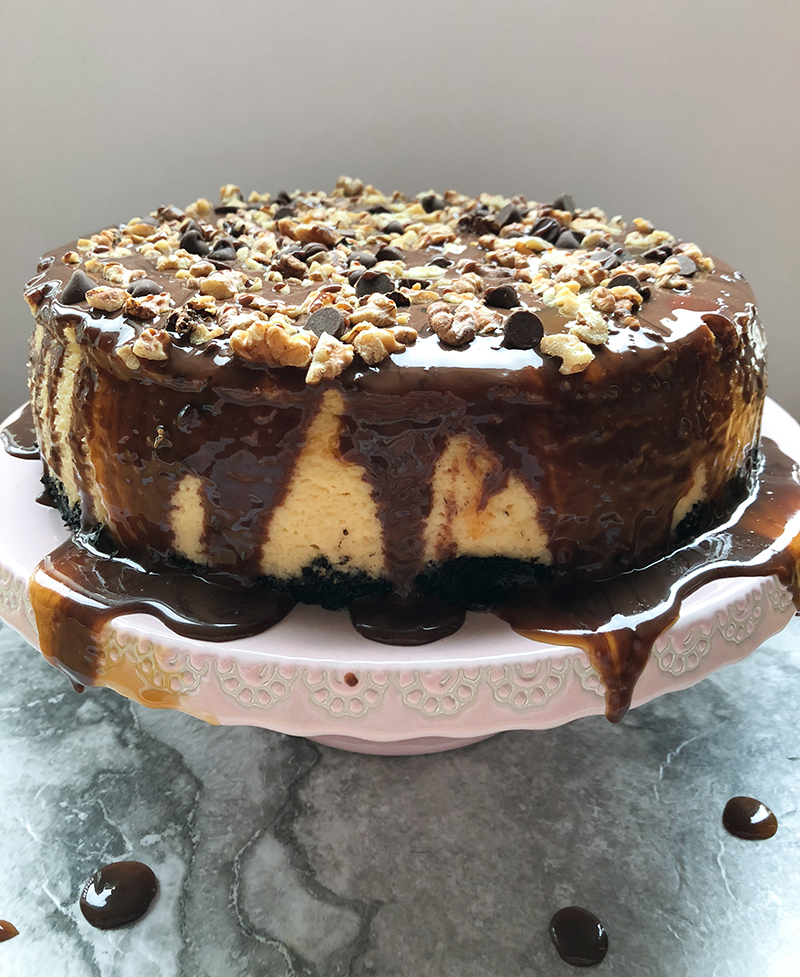 If you're not gluten free, you're probably thinking "Can you not even touch gluten? Just make the ones you're selling with regular ingredients!" So, the answer is, yes, I can touch gluten (although a lot of Celiacs can't). But have you ever added flour to your mixer at a high speed and had it spray all over the kitchen like a fine mist? It's impossible to clean off of everything and then you see flecks of flour for what seems like months afterwards. That's enough flour to get a Celiac like me super sick. That's a big risk to take in a gluten free household, so I don't do it. Plus I'm not going to sell food that I can't actually taste, because that's just bad business.
If you are NOT gluten free, you can use all purpose flour instead of cornstarch in this recipe, which is how I made it for many years. The end result is slightly more dense. You can also use regular Oreo's instead of the gluten free version.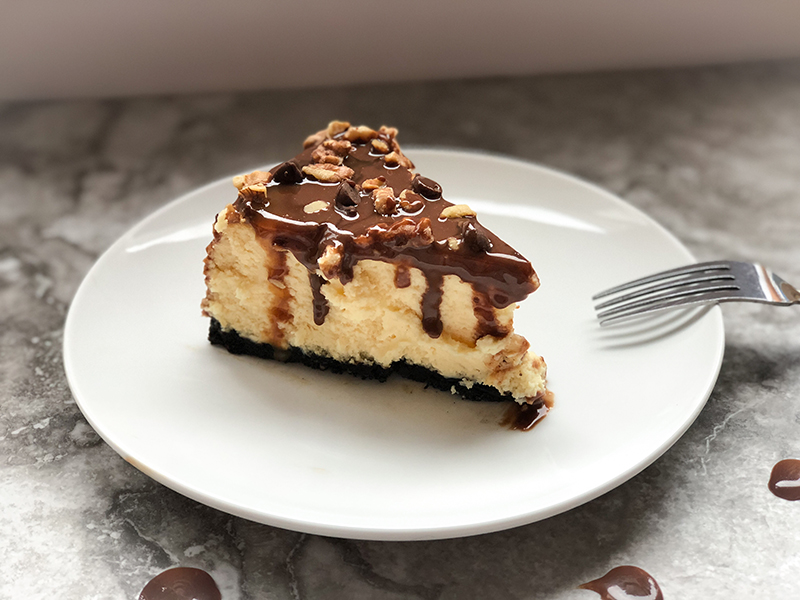 Anyway, my loss is your gain, because that means I can share this recipe with the world!
One of my favorite parts about this recipe is that it's highly adaptable. You can easily make other variations on this cheesecake. Here are some ideas:
Classic cheesecake with strawberries – Leave the caramel sauce out of the filling and top with sliced strawberries instead of turtle topping after cooling. Substitute Oreo cookies in crust for crushed GF graham crackers. (This is the version pictured on my About Me page).
Chocolate cheesecake – Add 1 tablespoon dutch process cocoa powder and 1/4 cup melted chocolate chips to the filling instead of caramel sauce. Leave caramel sauce and nuts off of topping.
This recipe is yours to make your own!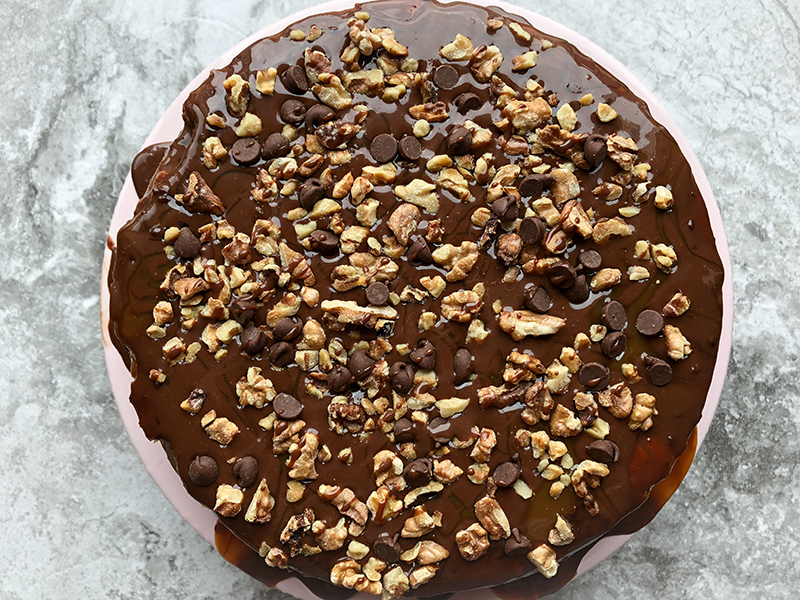 If you make this recipe, I would love to see your final pictures! Share them with me on Instagram by tagging @sizzlingmessblog, or shoot me an email to sam@sizzlingmess.com!
Happy baking!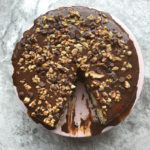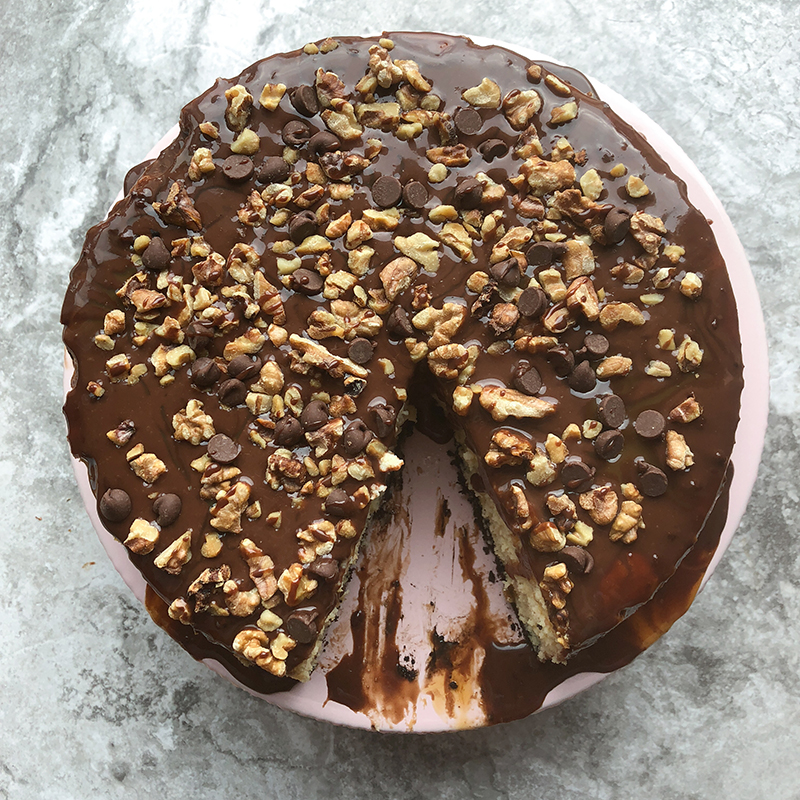 Gluten Free Turtle Cheesecake
Ingredients
Special Equipment
9

inch

springform pan

Roasting pan

or deep oven safe dish, that springform pan fits into

Water

for water bath
For the Crust
1

package gluten free Oreos

about 24 cookies, cream removed (See notes.)

1/4

cup

unsalted butter

1/2 stick, melted
For the Filling
4 8-

oz

packages cream cheese

softened

1 2/3

cup

granulated sugar

3

tablespoons

cornstarch

1/4

teaspoon

sea salt

4

whole eggs

2

egg yolks

1/4

cup

sour cream

1 1/2

teaspoons

vanilla extract

1/4

cup

gluten free caramel sauce

See notes.
For the Topping
1/2

cup

milk chocolate chips

about 4 oz

1/2

cup

heavy cream

3

tablespoons

caramel sauce

1/4

cup

pecans or walnuts

chopped

Extra chocolate chips

for topping
Instructions
Preheat oven to 325 degrees F.

Line the bottom of your springform pan with parchment paper or aluminum foil (this will make it easier to move off of the pan later if you don't plan to serve it straight out of the pan).

If your springform pan is not leakproof (it's probably not), you will need to wrap aluminum foil around the bottom of the pan and as far up the outer sides as it will go. The cheesecake bakes in a water bath to make sure it cooks evenly and doesn't crack, so you'll want to make sure that no water can seep in.
To Make The Crust:
Crush the Oreo cookies. You can use a food processor for this, or put them in a gallon-sized ziplock bag and then use a rolling pin to crush them. They should be finely ground, like breadcrumbs.

Add the melted butter to the cookie crumbs and mix until all of the cookies have been saturated.

Dump your cookie mixture into the bottom of the springform pan and press into the springform pan so that the bottom is covered completely.
To Make The Filling:
In a large mixing bowl, or the bowl of your stand mixer, add your cream cheese and beat on medium speed for about 30 seconds.

Add in sugar, and continue to beat on medium until the mixture is smooth, about 2 minutes. You'll still be able to feel sugar crystals, but the mixture should not look gritty.

Slow mixer to low and add in cornstarch and salt, mixing until just combined. Scrape down the sides of your mixing bowl.

Bring mixer back to medium and add in the eggs and egg yolks one at a time, beating until combined between each addition. Scrape down sides of mixing bowl periodically.

Once the eggs are fully integrated, add sour cream, vanilla extract, and caramel sauce and beat until just combined.
To Bake:
Pour filling into springform pan. Don't worry too much about smoothing out the top, it will settle in the oven.

Set the springform pan into your roasting pan and pour in hot water from the tap, as far up the sides of the springform pan as you can go without water getting over the aluminum foil. About 1/2 of the way is ideal.

Bake for an hour and a half, and then check. Top should be golden and sides will be set, but middle will still have a bit of "jiggle" to it. If not done, add 20 more minutes and then check.

When done, remove from oven and water bath and let cool on the counter until the springform pan is cool enough to handle.

Once the pan is cool, carefully remove the outer layers of aluminum foil (they're still full of hot water!), but do not release the springform pan. Transfer to the refrigerator in the springform and let cool for at least 3 hours.

Once the cheesecake is cool, you can release the sides of the spring form pan. You may need to gently loosen it with a butter knife around the edges so the cheesecake doesn't stick.
To Make the Topping:
Preheat broiler. Put chopped nuts on a rimmed baking sheet and put under the broiler for about 5 minutes, or until they are fragrant, but not darkening. Remove and set aside to cool.

Pour the chocolate chips into a heat-proof bowl, set aside.

Heat heavy cream in a small saucepan over medium heat until simmering. Carefully pour heavy cream over chocolate and stir until smooth and chocolate is melted. If the chocolate does not fully melt after a couple of minutes, you can microwave the ganache 5 seconds at a time, stirring well after each heating, until fully melted.

Let ganache cool, 20-30 minutes, stirring periodically. It should be pourable, but not runny. The refrigerator will speed up this process if needed.

Pour ganache over top of cooled cheesecake.

Drizzle caramel sauce on top of the ganache and sprinkle the nuts on top. Top with more chocolate chips, if desired.

Serve.
Recipe Notes
OREOS: Any brand of gluten free chocolate sandwich cookie will work. The closest I have found in taste and texture to regular brand-name Oreo's are the Great Value brand gluten free chocolate sandwich cookies from Walmart!
CARAMEL SAUCE: Most caramel sauce is gluten free, but unfortunately not all of it. I used Hershey's brand Caramel Topping (the one that comes in a glass jar), which according to their website is gluten free.
Why sea salt? Normally in my recipes I call for kosher salt, but because kosher salt changes so much brand-by-brand it doesn't always provide consistent results. While that is okay in most recipes, in baking recipes, exact amounts matter, so I call for sea salt because the salt granules will be more consistent from one brand to the next. I NEVER recommend table salt for any recipe because it has added iodide that gives it a bitter flavor.
Not gluten free? Use all purpose flour instead of cornstarch in the filling if you want a slightly denser cheesecake and use regular Oreos for the crust.