Chicken Tikka Masala is made with flavorful chunks of chicken in a spiced, creamy tomato sauce. It's perfect to serve with basmati rice, it's gluten free by nature, and it is super easy to make at home.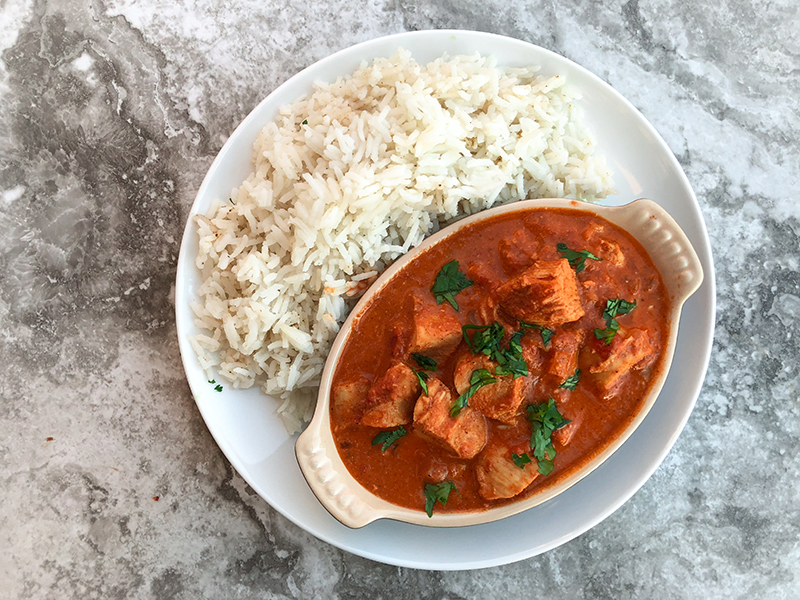 When you go gluten free, you quickly realize that one of the first things that needs to go is all of your favorite takeout. If you're like me, and you used to subsist almost entirely on restaurant food, this is a big blow. Indian is one of the foods that just depends on the restaurant if it's safe (some use flour to thicken, or meats are contaminated by naan in the tandoor), and a lot of people have never made it at home and so it can be really intimidating.
But the good news is that most Indian recipes are gluten free by nature, so you can get restaurant-quality food without making a bunch of substitutions.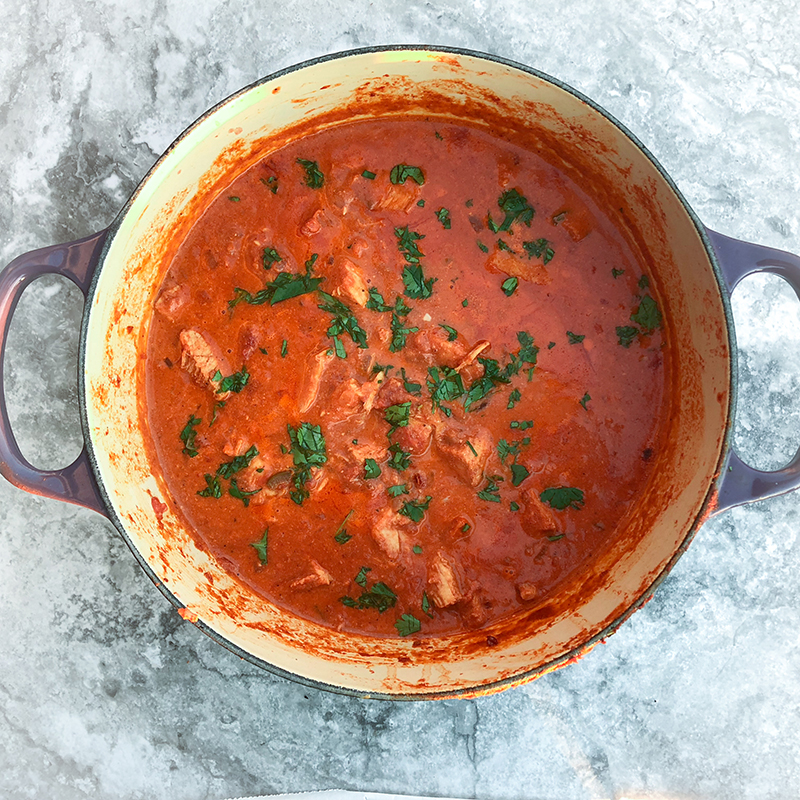 That's where this recipe comes in; it tastes like restaurant food, and it's not something you have to slave over all day to get that authentic taste.
I obviously don't have a tandoor in my kitchen, and I doubt you do either (although if you're a fan of Good Eats, Alton Brown will show you how to make one out of a flower pot!), so I make the "tandoori" chicken in the oven and then char it with the broiler. This recipe is not bright red like what you're probably used to seeing in Indian restaurants because that red color comes from Red Dye #40. Not that I'm against food coloring as a rule, but I don't need my chicken to be dyed.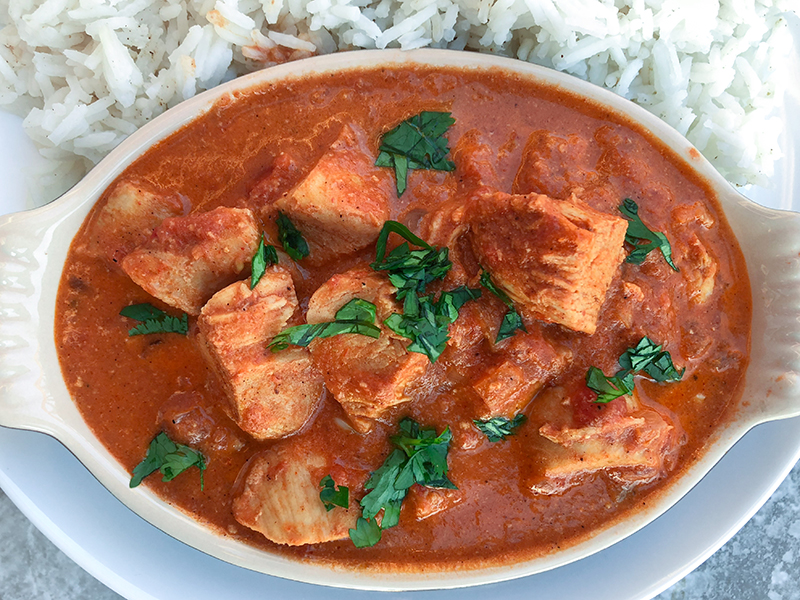 It can be slightly challenging to find a gluten free garam masala blend, but they're out there. I used Simply Balanced brand. If you can't find that or another suitable one, you can make your own blend! There are several out there on the web, but I choose to buy one pre-mixed because I don't use some of those spice often enough to buy big jars.
Not gluten free? Then serve this with naan! Trader Joe's has some great options in their frozen section. That's the only change you'd need to make.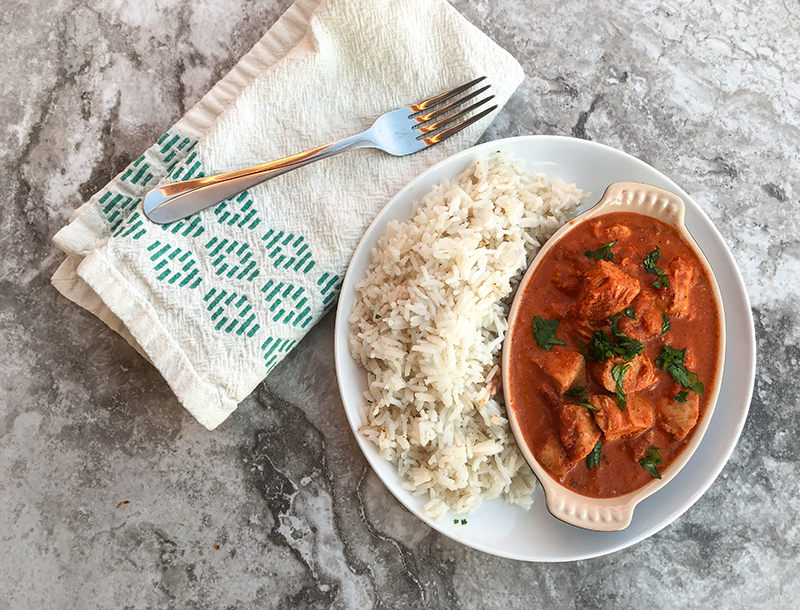 Let's get cooking!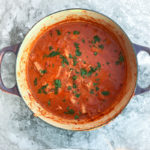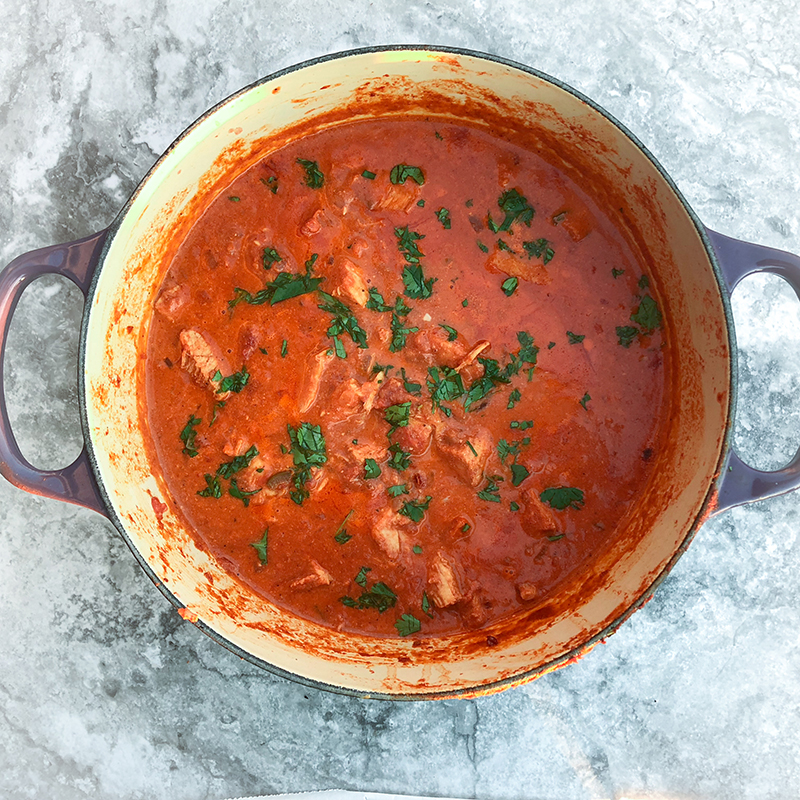 Chicken Tikka Masala
Total Time
1
hour
15
minutes
Ingredients
For the Chicken
4

chicken breasts

1

teaspoon

cumin

1

teaspoon

coriander

1/2

teaspoon

cayenne pepper

1

teaspoon

kosher salt

I used Morton's

1

cup

plain greek yogurt

1

teaspoon

fresh ginger

grated (about 1.5 inch piece)

4

garlic cloves

minced
For the Sauce
3

tablespoons

butter or ghee

1

small white onion

finely diced

1

jalapeno pepper

finely diced (ribs and seeds optional, but I recommend removed if you don't like high spice)

4

garlic cloves

minced

1

teaspoon

fresh ginger

grated (about 1.5 inch piece)

1

teaspoon

cumin

1

teaspoon

coriander

2

teaspoons

garam masala

1 28-

oz

can crushed tomatoes

2

teaspoons

granulated sugar

1

cup

reduced sodium chicken broth

Kosher salt

to taste (I used 1 1/2 teaspoons of Morton's)

1/2

cup

heavy cream

Cilantro

chopped (optional, for garnish)
Instructions
Preheat oven to 350 degrees F.

Place chicken on a rimmed baking sheet lined with foil and rub cumin, coriander, and cayenne pepper on both sides. In a separate book, mix together yogurt, ginger, and garlic and then cover the chicken breasts on both sides with yogurt mixture.

Let chicken bake for 30 minutes, or until an instant read thermometer shows an internal temperature of 165 degrees F.

While the chicken is baking, melt butter in a dutch oven or heavy bottomed pot over medium heat. Once butter is melted and bubbling, add onions and sauté until just barely starting to brown. Then add jalapeños, garlic, and ginger and sauté for about a minute, or until fragrant. Next add the cumin, coriander, and garam masala to the aromatics and allow to cook for several minutes, stirring constantly to open up the flavors of the spices, until very fragrant, but not burning/browning at all.

Add crushed tomatoes and sugar, and turn heat to medium-low. Let simmer for about 20 minutes, stirring occasionally.

Once chicken is done, turn the broiler on high and broil the chicken for about 10 minutes, or until the chicken/yogurt is light brown and charred in places. Then, remove chicken from oven and let rest for 5 minutes. After resting, chop chicken into bite-sized cubes and add to the masala sauce, along with any juices and yogurt left on the baking sheet. (This is important! The yogurt and juices on the baking sheet is full of flavor!)

After adding the chicken to the sauce, stir in chicken broth and allow to simmer for about 10 more minutes, then add stir in the heavy cream and salt to taste (I added about 1 1/2 teaspoons, but you may need more or less depending on how salty your chicken broth is. If you taste the sauce and it is slightly bland/you can't taste all the spices, you need more salt.)

Garnish with chopped cilantro, if desired and serve with basmati rice.