These Nutella chocolate chip cookies are melty and crispy and chocolatey with a hint of Nutella flavor.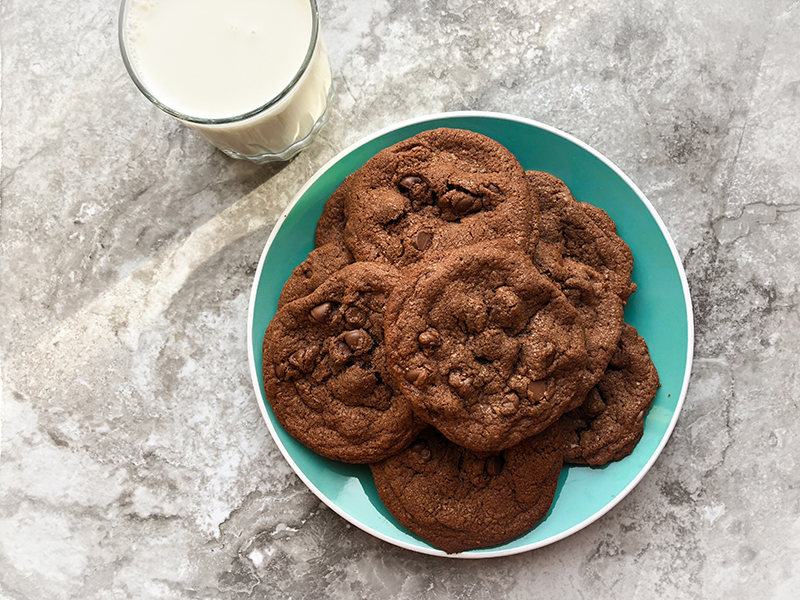 These cookies are flat and crispy. Honestly, if I were in a baking class I would probably fail with this recipe due to the amount of spreading, but I'll tell you something, they're delicious and melt-in-your-mouth and amazing, so I don't care how much they spread.
These cookies also do not require chilling, and actually chilling the dough is a detriment to them because it ruins the texture. Just make sure your butter is juussstttt barely softened enough to cream (I like to do this by taking it out of the fridge and cutting the stick into small chunks and just letting it sit on the counter while I get everything else together).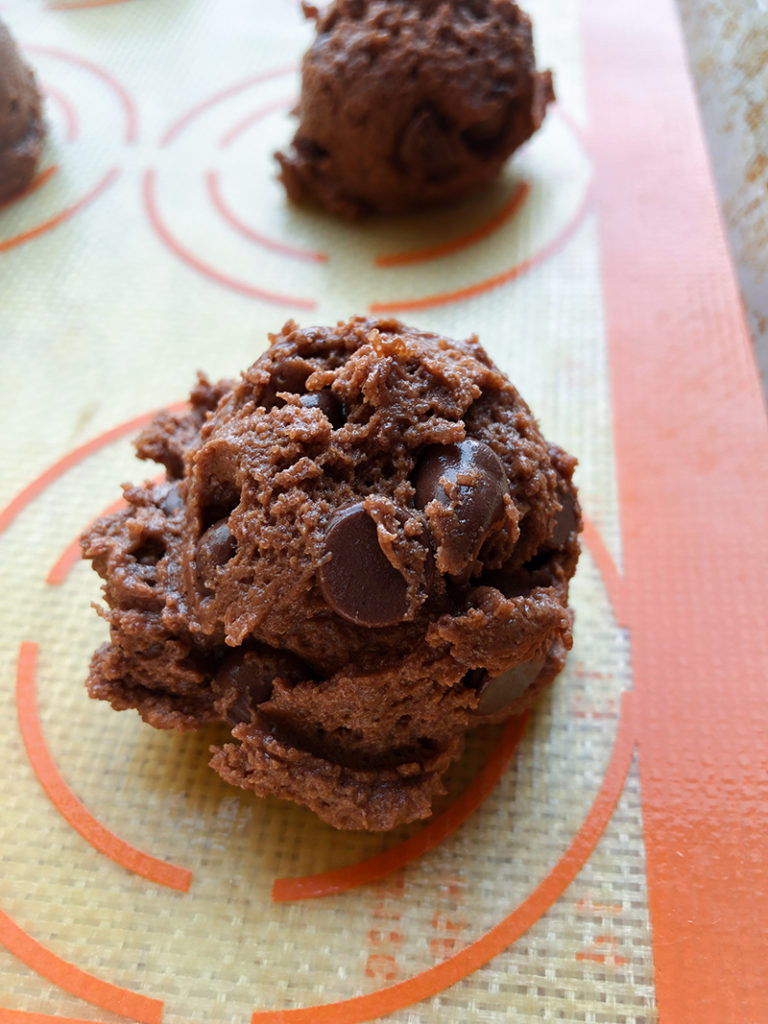 These cookies are perfect for gifting for anyone who loves Nutella (and honestly, I don't know how anyone could not love Nutella) and they are fragile but hold up pretty well for travel.
Just a note here that this recipe has NOT been tested with regular flour, so I can't promise it will work for those of you who aren't gluten free. I used Cup4Cup brand GF flour to test, and that is what I would recommend. Not all GF flour blends are created equal, but if you use a different blend, make sure it has xanthan gum, or that you add the appropriate amount of xanthan gum or you'll be baking cookie crumbs!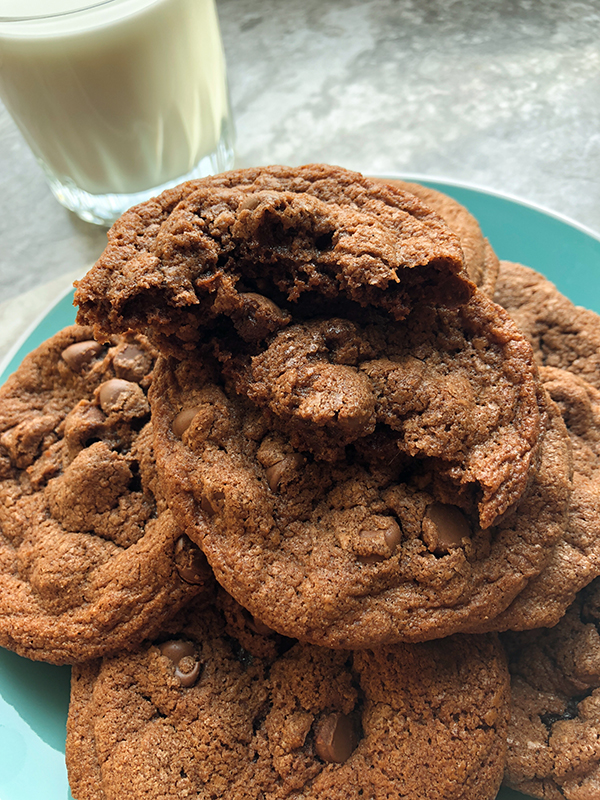 Here's the recipe!
Gluten Free Nutella Chocolate Chip Cookies
Crispy, chocolatey melt-in-your-mouth cookies.
Ingredients
1/2

cup (1 stick)

unsalted butter

slightly softened

1/2

cup

granulated sugar

1/2

cup

light brown sugar

1

cup

Nutella

1

whole egg

large

1

egg yolk

large

1/2

tablespoon

vanilla extract

1 1/4

cups

gluten free flour blend WITH xanthan gum

I used and recommend Cup4Cup brand

1/2

tablespoon

dutch processed cocoa powder

1/4

teaspoon

espresso powder

1/2

teaspoon

baking soda

1/4

teaspoon

baking powder

1/2

teaspoon

sea salt

finely ground

2

cups

milk chocolate chips
Instructions
Preheat oven to 350 degrees F. Line a baking sheet with parchment paper or a silicone baking mat.

In a large bowl with a hand mixer or in the bowl of your stand mixer with the paddle attachment, cream together softened butter, granulated sugar, and brown sugar on medium-high speed until butter is light and fluffy. While the butter and sugar are going, combine your dry ingredients (minus the chocolate chips) in a separate bowl.

With the mixer still on medium-high, pour Nutella in and mix until combined, scraping down sides as needed. On medium speed, add whole egg, egg yolk, and vanilla extract, mixing until fully combined, continuing to scrape down sides as needed.

Turn mixer down to low and add your dry ingredients in 2 batches, stopping when combined and not over-mixing. Stir in chocolate chips.

Using a cookie scoop or large measuring spoon, drop cookies onto baking sheet 2 inches apart. Bake for 13-15 minutes. Let cookies cool on the baking sheet for about a minute and then transfer to a cooling rack. They will be very soft at first, but crisp up quickly.
Recipe Notes
Not all GF flour blends are created equal. I tested this recipe with Cup4Cup and I recommend that you use that flour for the same results that I got. If you use a different blend, make sure it has xanthan gum added or that you add the appropriate amount.
Why sea salt? Normally in my recipes I call for kosher salt, but because kosher salt changes so much brand-by-brand it doesn't always provide consistent results. While that is okay in most recipes, in baking recipes, exact amounts matter, so I call for sea salt because the salt granules will be more consistent from one brand to the next. I NEVER recommend table salt for any recipe because it has added iodide that gives it a bitter flavor.
These cookies DO NOT require chilling, and chilling the dough is actually a bit of a detriment to the texture. They spread a lot in the oven for a big crisp cookie, that's how they're supposed to be.