These deviled eggs have crispy bacon, roasted jalapeños, and fresh dill for the perfect combination of jalapeño popper-esque flavors.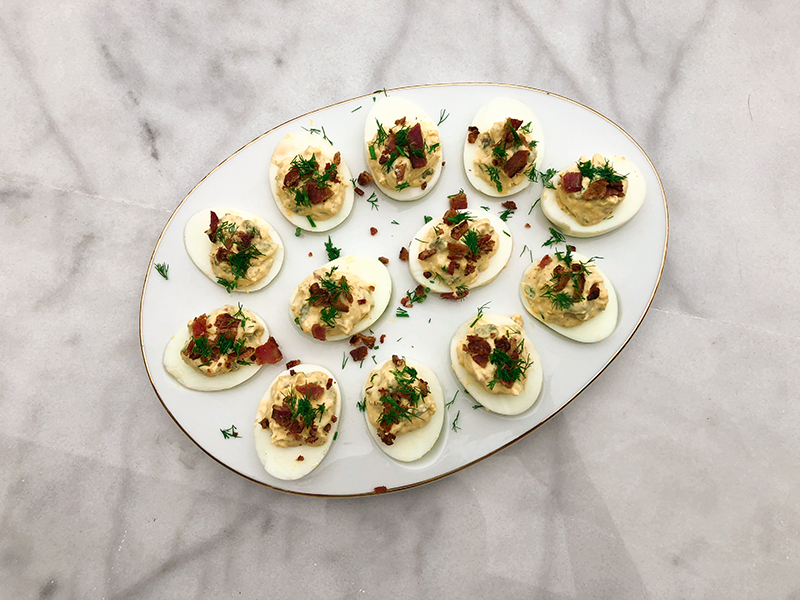 I love these deviled eggs for Easter, Mother's Day, or really any other special occasion. They're easy to make and they break from tradition JUST enough that they're delicious, but skeptical relatives aren't too suspicious to eat them.
Deviled eggs are also the perfect gluten free appetizer food because they're cheap and simple to make and you don't need to make any fancy substitutions.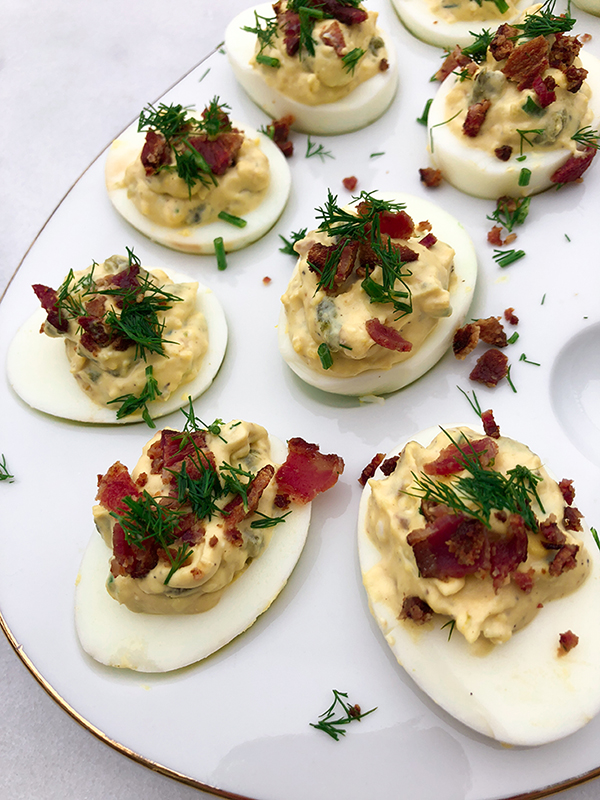 You can definitely make these your own, though. Try different types of peppers, maybe add a small amount of cheddar cheese for a jalapeño popper flare, use black pepper bacon instead of regular bacon, top with chives instead of dill, or whatever you want!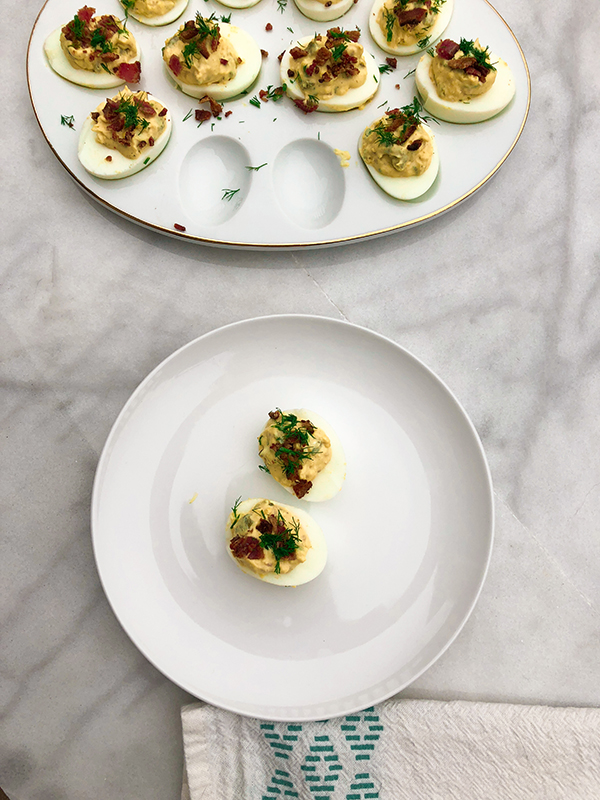 Ready for the recipe? Here you go!
Bacon Jalapeno Deviled Eggs
Ingredients
12

large eggs

hardboiled, see notes.

2

jalapeños

roasted, see notes.

3

slices

thick cut bacon

cooked

1

green onion

thinly sliced

2

oz

cream cheese

softened

1/3

cup

mayonnaise

I use Duke's or Hellman's

1

teaspoon

yellow mustard

1

tablespoon

red wine vinegar

1/2

teaspoon

garlic powder

1/4

teaspoon

black pepper

1

teaspoon

kosher salt

or to taste, I used Morton's

3

sprigs

fresh dill

chopped finely, for garnish
Instructions
Cut hardboiled eggs in half, and gently separate the yolks from the whites (taking care not to break the whites) and place yolks with into a large mixing bowl. Reserve whites on a serving plate.

Cut the stems off of your jalapeños and slice them in half vertically. Scrape out the ribs and seeds with the tip of your knife. Then dice the roasted jalapeños and add to the bowl with the egg yolks.

Dice 2 slices of bacon (reserving the third for garnish), and add to the bowl.

Then add green onion, cream cheese, mayonnaise, yellow mustard, red wine vinegar, and all spices (not the dill) to the bowl with the egg yolks and mix until well combined.

Carefully spoon egg yolk mixture into the whites (you can try to use a piping bag and piping tip, but I've found that with this recipe it just doesn't work well because of the bacon and jalapeños).

Dice your last strip of bacon. Garnish each egg with some crumbled bacon and fresh dill. Serve.
Recipe Notes
To make this ahead of time, boil and peel your eggs the day before and store them in a container lined with paper towels, loosely covered, in the refrigerator. When ready to serve, assemble and enjoy.
To hard boil eggs: Bring a large pot of cold water to a boil. Gently place eggs into the water and let boil for 12 minutes. While the eggs are boiling, prepare a bowl with ice and cold water. Once the timer is done, carefully remove the eggs from boiling water and plunge them into the ice bath until cool (about 5 minutes). Once cool, gently crack the eggs against a cutting board on the top and bottom and along the sides and then peel off the shell.
To roast jalapeños: Preheat your broiler on high and place the jalapeños on a baking sheet under the broiler. Let roast, turning occasionally, until the skin is dark brown and blistered, remove from oven. Once cool enough to handle, peel the skin off of the peppers and discard.