Mississippi drip beef sandwiches take all of the elements of Italian drip beef sandwiches are infuse them with the irresistible flavors of the Mississippi pot roast. And better yet, this version is gluten free!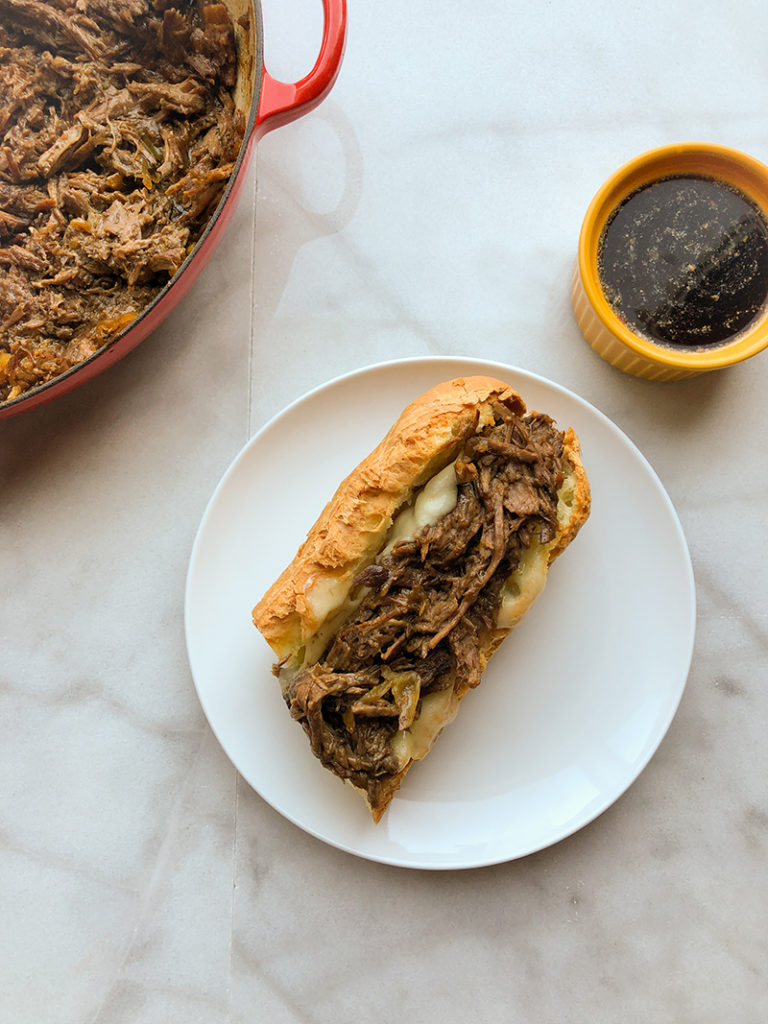 (Although, if you're not gluten free it's still a great recipe and you can substitute non-GF ingredients as you see fit.)
I've loved the Mississippi roast since the first time I ever tried it and through the years I've tweaked the recipe over and over, adding garlic, using sliced peperoncinis instead of whole ones, adding a certain brand of italian dressing packet, using beef broth instead of water, changing the amounts of butter, etc. – until it was exactly how I liked it.
Until I had to go gluten free, womp womp. But, not to worry, I've fixed it so it's gluten free and better than ever, and I've turned into cheesy, delicious sandwiches.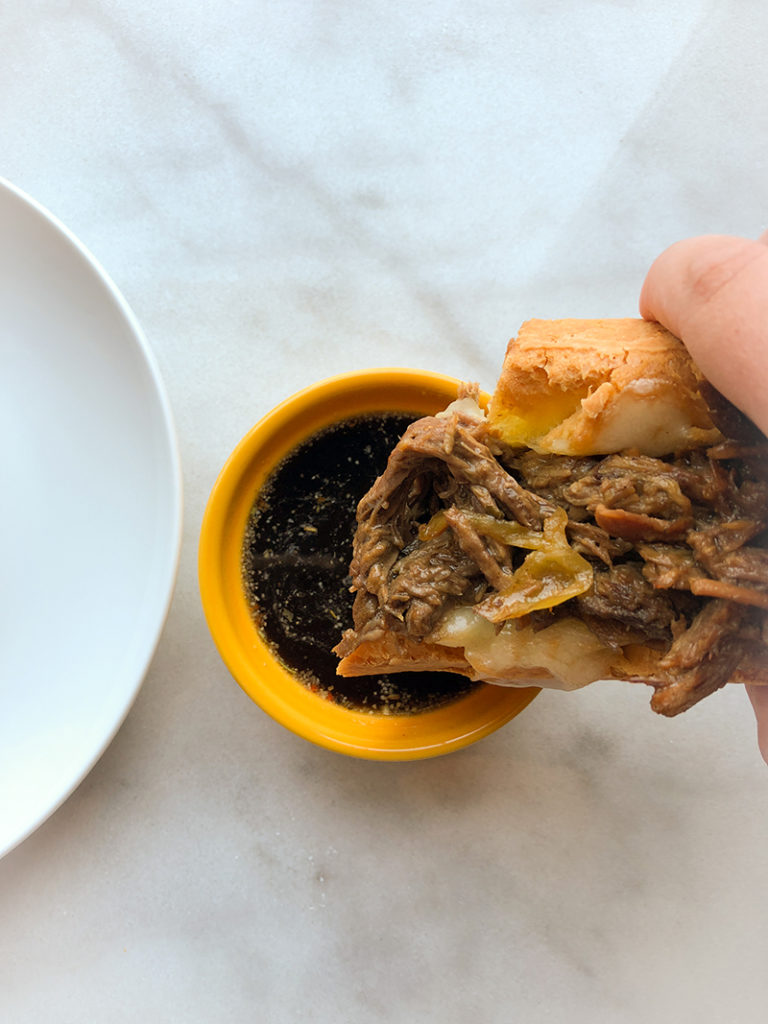 If you just want to eat the roast without the sandwiches, you can skip most of the assembly instructions except for those about how to thicken the gravy – you will still need to do that.
You can also make this in the slow cooker, but I prefer to do it in the oven because I can't plan ahead well enough to use a slow cooker and I have to get more pots and pans dirty to do it.
The garlic and sliced peppers will sort of melt into the gravy, so they don't require any more shopping. Just dump the peppers in and just the the garlic cloves a light smash.
I don't brown the beef for this recipe because I've done it both ways and I think in the end with all the flavors and sauce it's unnecessary, but you can. If you're going to do it in the slow cooker, I probably would brown it just because you won't get that same level of caramelization that you get from braising it in the oven.
Also, yes, I can hear some of you scoffing at the brown gravy mix, but that's just what Mississippi roast is. I would literally never use powdered gravy anywhere else because I think it's gross, but it has a place here and lends a deep beefy flavor to the gravy.
Finally, you can use chuck roast, but you might end up having to skim some of the fat off before thickening the gravy. I like chuck roast, but it tends to be pretty expensive, and I've made this just as successfully with beef arm roast and bottom round roast (which tend to be more meaty and less fatty anyway).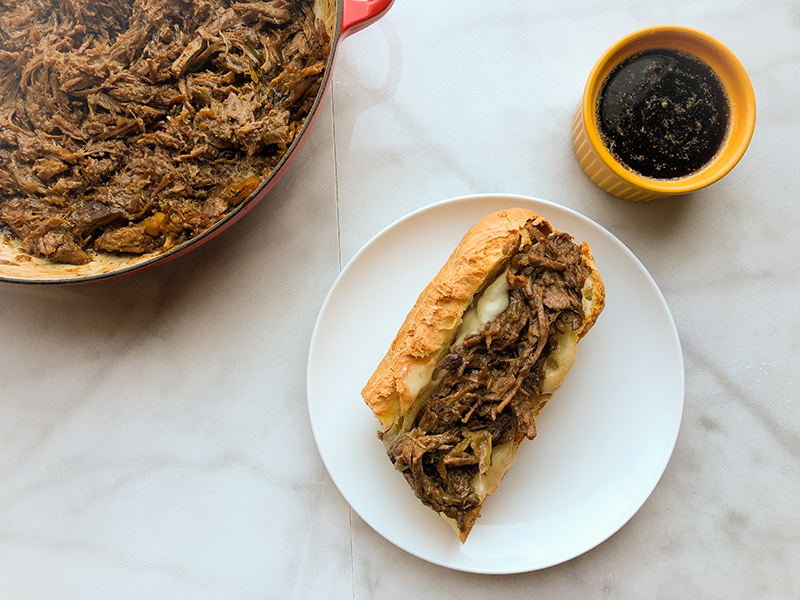 Ready to give them a go? Here's the recipe!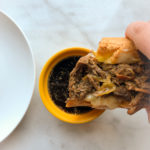 Mississippi Drip Beef Sandwiches
Savory Mississippi pot roast-style italian drip beef sandwiches.
Total Time
4
hours
10
minutes
Ingredients
For the Beef
3.5

pounds

beef roast

such as bottom round or arm roast

1

packet

gluten free brown gravy mix

1

packet

gluten free powdered ranch dressing mix

such as Hidden Valley, 2 tablespoons

2

cups

beef broth

1/2

stick

unsalted butter

(1/4 cup)

1/2

cup

deli sliced peperoncini peppers

1/3

cup

juice from peperoncini jar

5

cloves

garlic

peeled and lightly crushed the side of a knife
To Assemble
1 1/2

teaspoon

cornstarch

2

teaspoons

warm water

8

sandwich rolls or 4 baguettes cut in half

split, see notes for gluten free recommendations

16

slices

swiss cheese

1 1/2

cup

beef broth

1

tablespoon

steak seasoning
Instructions
Preheat oven to 325 degrees F.

Place beef in a large dutch oven or braiser. Combine gravy mix, ranch mix, and 2 cups beef broth in a measuring cup and pour over beef. Add butter, peperoncinis and juice, and garlic cloves to the dutch oven/braiser and cover.

Bake for 4 hours or until beef is easily shredded with two forks. When the beef is done, remove the beef to a separate container and shred. Set aside.

Move the dutch oven/braiser with the cooking juices to the stovetop over medium heat until it's starting to bubble. Mix together cornstarch and water to make a "slurry" and pour it in, whisking until thickened (you want it to be gravy consistency).

Add beef back to the sauce in the dutch oven/braiser and stir until the beef is completely coated. Set aside.

Turn broiler to high. Assemble your sandwiches on a baking sheet lined with foil (for easy clean-up). Split sandwich rolls or baguettes 3/4ths of the way through, but not cutting them fully in half. Add 2 slices of swiss cheese per sandwich and top with a pile of beef. Broil until cheese is melted and bread is toasted.

While sandwiches are broiling, heat 1 1/2 cups beef broth with steak seasoning in the microwave until hot, and then serve in ramekins for dipping.
Recipe Notes
GLUTEN FREE SANDWICH ROLLS: I like to use Against the Grain baguettes for this type of sandwich. Each baguette makes 2 sandwiches.