This braised pork tenderloin recipe is fall-apart tender, and super flavorful. It's slightly sweet and full of umami goodness, and it's perfect on it's own or used as part of another meal.
One of my favorite things about braised meats, especially pork tenderloin, is that they're delicious and taste like you slaved away at them for hours, but the truth is that beyond dumping all of the ingredients into the cooking vessel, they're basically set-it-and-forget-it.
You can use a dutch oven, or any heavy-bottomed over safe pot with a lid for this recipe, but I used my Le Creuset 3.5 qt braiser. If you have one, I highly recommend it! Both methods will create a tender, fall-apart pork roast, but the braiser is designed to do this, which is why I opted for that instead of my dutch oven.
This recipe would also probably be great cooked on low for 6-8 hours in a slow cooker, but I haven't tested this method, so you will need to use your best judgement on timing if you do.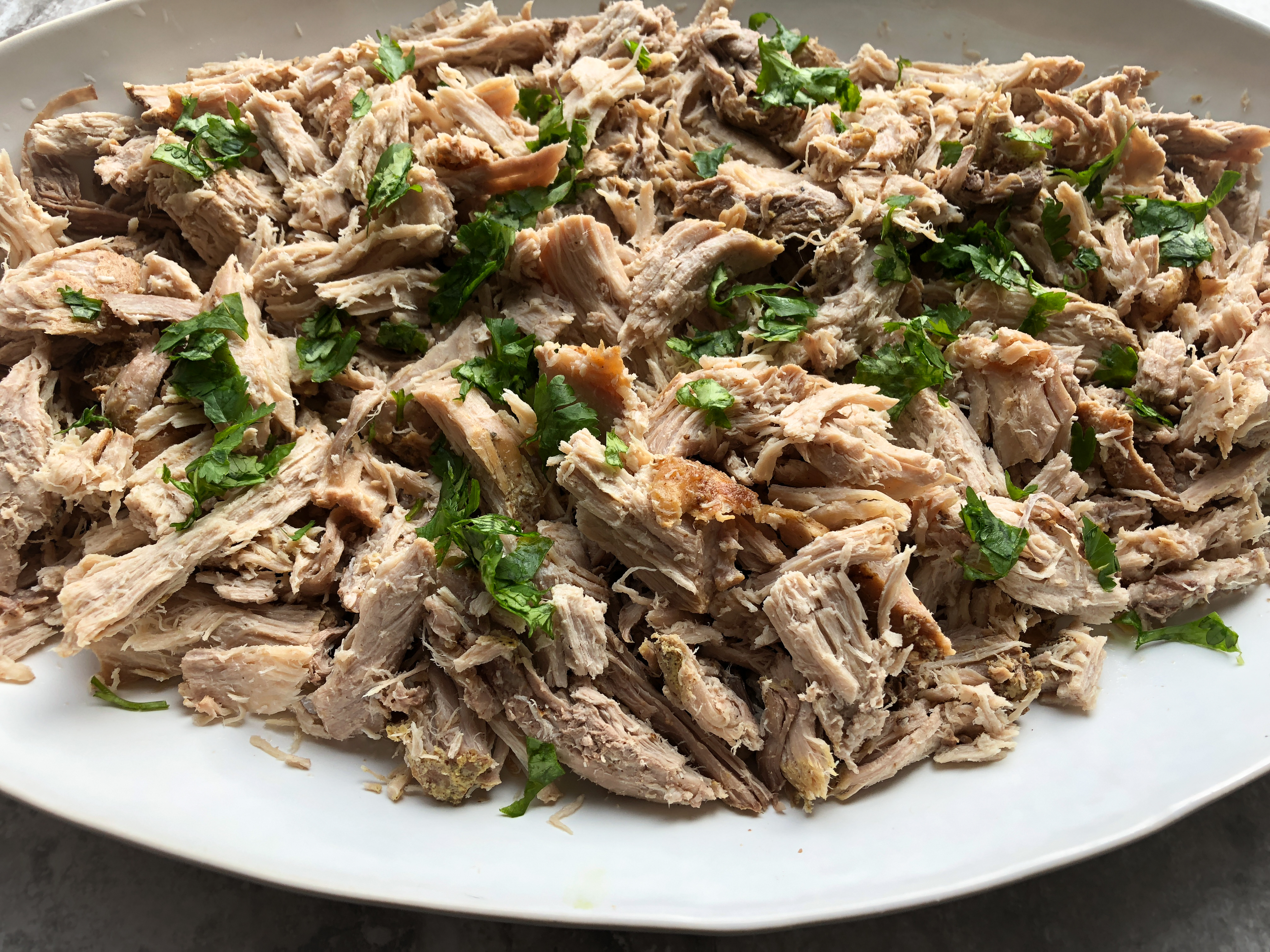 This pork is amazing as a stand-alone dish with mashed potatoes and gravy (instructions in the notes of the recipe), but can be used for so many other things, like:
Barbecue pulled pork sandwiches
Stuffing in a baked potato with sour cream, cheddar cheese, green onions, and just a little barbecue sauce, salt and pepper
Tacos, tostadas, or enchiladas
Topping a frozen cheese pizza with a drizzle of barbecue sauce and some green onions (my favorite GF frozen pizza is Sabatasso's from Costco!)
The options are endless and it's a great canvas for anything you can come up with!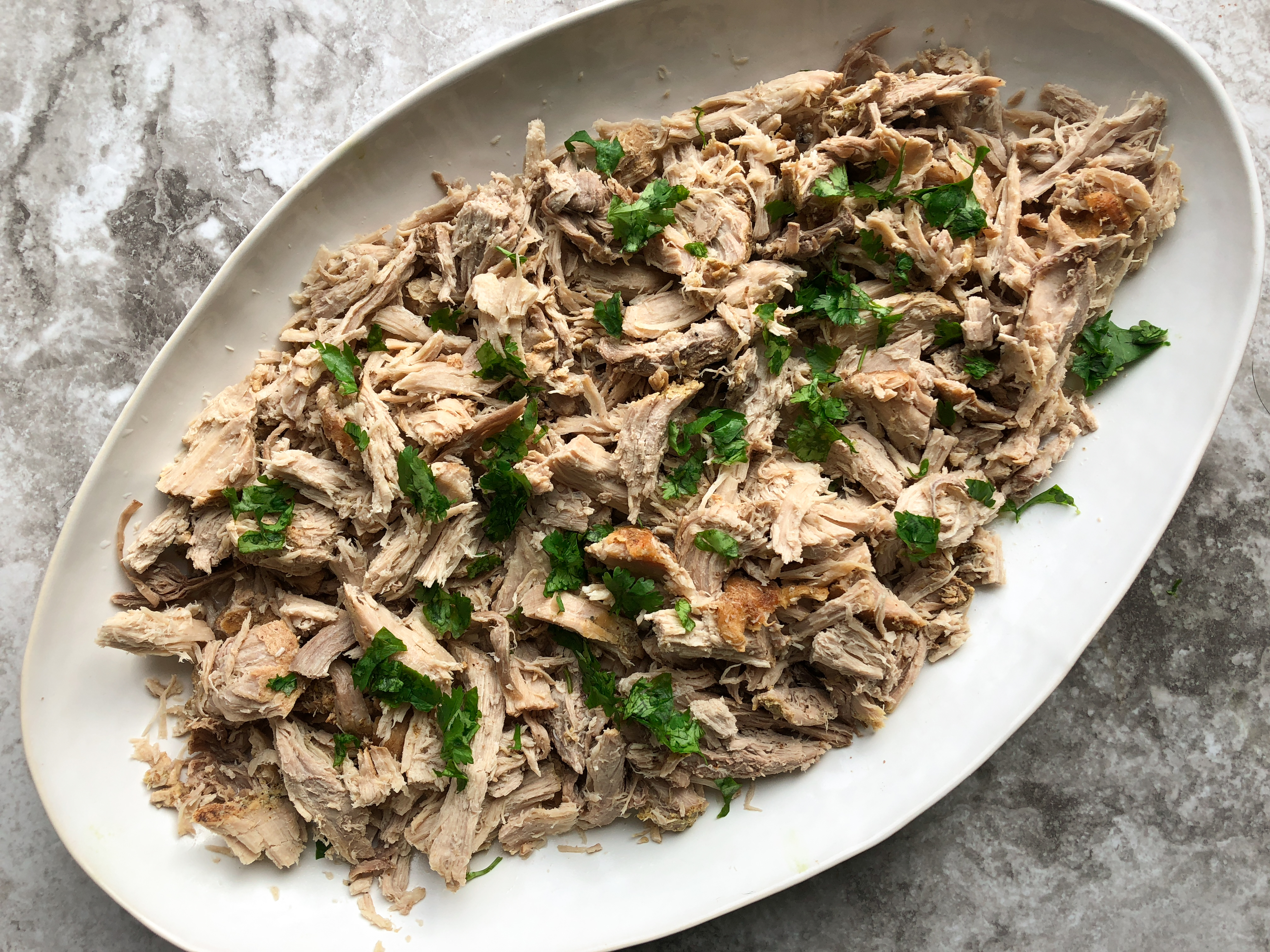 I'll let the recipe speak for itself!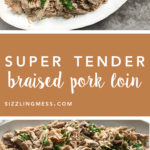 Super Tender Braised Pork Tenderloin
Cook Time
2
hours
30
minutes
Total Time
2
hours
40
minutes
Ingredients
4

lb

pork tenderloin roast

2.5

tablespoons

spicy brown mustard

6

tablespoons

light brown sugar

2

cups

water

4

teaspoons

balsamic vinegar

4

smashed whole garlic cloves

Kosher salt and pepper

to taste

Cilantro

for garnish (optional)
Instructions
Preheat oven to 350 degrees F.

In a large dutch oven, braiser, or heavy-bottomed pot, place your pork loin and sprinkle it all over with salt and pepper, then brush on spicy brown mustard and sprinkle on brown sugar.

Add water, balsamic vinegar, and garlic cloves to the bottom of the pot.

Place in oven at let bake for 2.5-3 hours or until it has an internal temperature of at least 165 degrees F, and the meat can be easily shredded with a fork.

Shred with two forks, garnish, and serve with cooking juices on the side.
Recipe Notes
You can start this from frozen pork without defrosting, but you may need to add extra cook time. If starting from frozen, wait at least an hour into the cooking time before adding the salt, pepper, mustard, and brown sugar so that it doesn't all just come off as the outside defrosts.
The cooking juices are slightly sweet and very flavorful for serving, but if you prefer, you can discard the juices after shredding and removing the meat (leaving behind any remaining garlic and small bits of meat) and make gravy instead. To do this, you will need 2 tablespoons butter, 2 tablespoons gluten free flour blend without xanthin gum (I like Bob's Red Mill All Purpose Gluten Free Flour), and 2.5 cups of chicken broth. Using the same pot, melt butter over medium heat and whisk in flour and allow it to bubble, then slowly pour in chicken broth, whisking as you go until the gravy reaches your desired consistency. Taste and add salt, pepper, and garlic powder to taste.