The Cuban sandwich (also known as a Cubano) is an amazing, filling meal stuffed with with roasted pork, ham, Swiss cheese, mustard, and pickles. It's the perfect sandwich for lunch, dinner, or fourth meal whether you're on Miami Beach, or somewhere in the Midwest.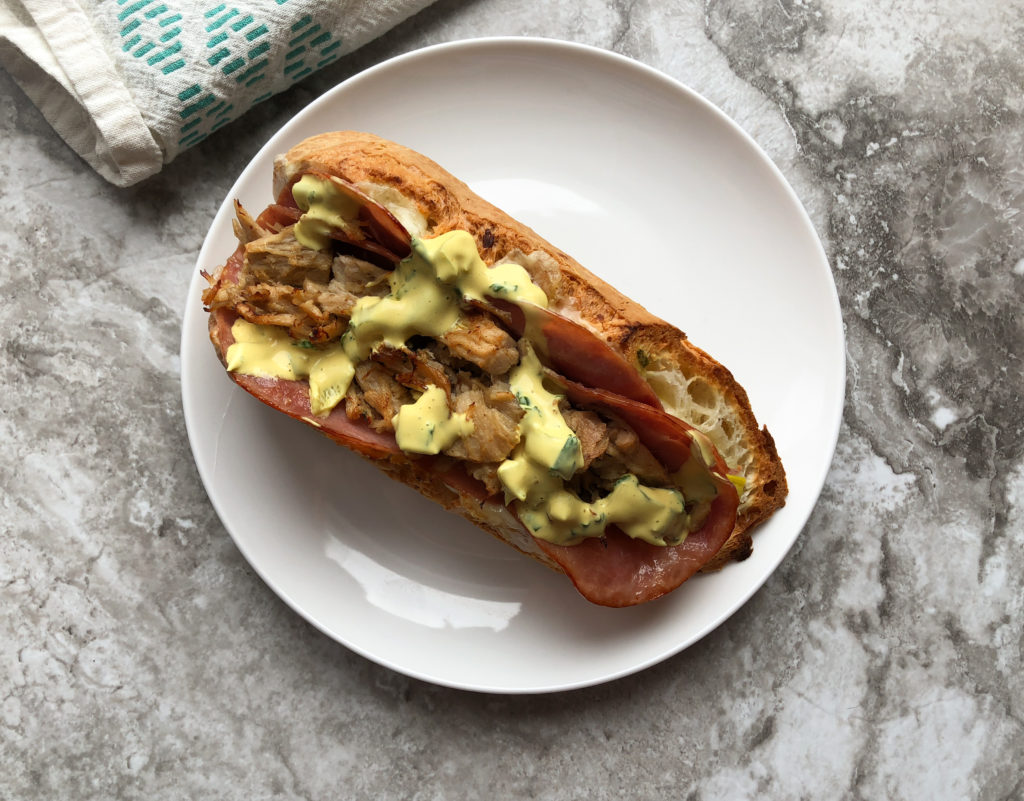 This is the best cuban sandwich recipe I've ever tried. I know you're not exactly inclined to believe me since of course I would say that, but like, just try to believe me. It's not crazy traditional, but it has the perfect balance of meat and cheese and acidity from the sauce.
Rather than just going with the traditional yellow mustard and dill pickles, I decided to get fancy and make a special sauce for the sandwiches that combines all of the traditional flavors of a Cubano and incorporates some of the other amazing flavors of South Florida.
I know this is a summery-sounding recipe, but if you've got the winter blues it's the perfect meal to perk you back up! However, these would also be great for a summer party because you can easily scale up the ingredients to feed a crowd. Just toss everything on some bread and pop it under the broiler until it's melty and delicious! Easy, impressive, and amazing.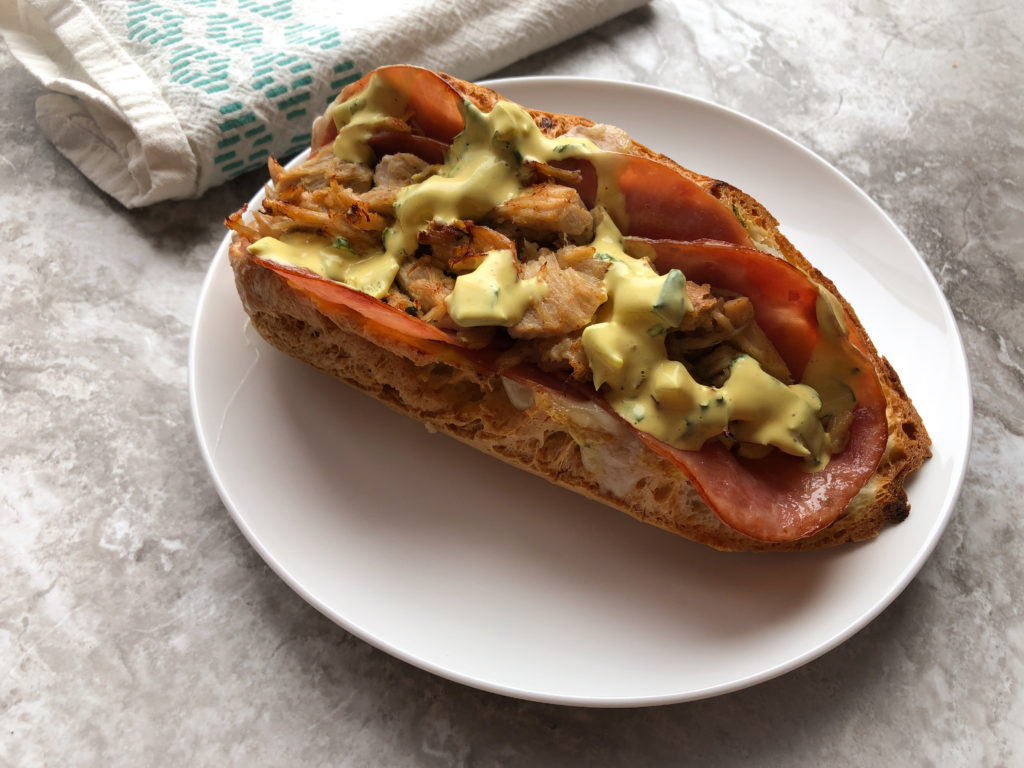 In this recipe you can use leftover pulled pork, leftover roasted pork loin, Cuban mojo pork, or roasted sliced pork from the deli counter. I used leftover Super Tender Braised Pork Tenderloin and it was totally delicious!
Gluten free sandwiches are kind of a challenge, but for almost all applications I recommend that you use a GF baguette rather than GF sandwich bread. I like Against the Grain brand, but Udi's also makes frozen baguettes. (This isn't sponsored, I just believe in telling you about the best products for success when it's applicable – being gluten free is hard enough, you don't have to play Russian Roulette with brands on top of it all.)
If you're not gluten free, you can use any baguette or sandwich roll that your heat desires! But you definitely can't go wrong with a traditional Cuban bread roll.
Here's the recipe!
Gluten Free Cuban Sandwiches (Cubanos)
Filled with roasted pork, ham, cheese, and a super flavorful mustard sauce, these sandwiches will transport you straight to Miami!
Ingredients
For the Sandwiches
3

tablespoons

unsalted butter

1/4

pound

ham

thinly sliced

1/4

pound

roasted pork

4

slices

swiss cheese

1

gluten free baguette

see notes
For the Sauce
2

tablespoons

dill pickles

(about 10 pickle chips), diced

1

tablespoon

peperoncini

diced

1/4

cup

mayonnaise

I used Duke's

1/4

cup

yellow mustard

1

tablespoon

cilantro

finely chopped

1

clove

garlic

minced

1

lime

juiced
Instructions
Combine all ingredients for the sauce and set aside.

In a pan over medium heat, melt butter. Once melted and starting to bubble, add ham to one side of the pan and roasted pork to the other, and cook until heated through and just starting to brown. Remove from heat.

To assemble sandwiches, cut baguette in half and slice lengthwise, making sure to not slice all the way through. Spread the sauce on both sides inside the baguette, followed by cheese, ham, and pork loin. (You might have some sauce leftover. If so, just set it aside.)

Ona foil-lined baking sheet, broil sandwiches until the bread is crusty but not browning and the cheese is bubbly and melty. Spoon any remaining sauce on top and serve.
Recipe Notes
I like to use Against The Grain gluten-free baguettes for this recipe. They come in a package of 2, and each baguette makes 2 sandwiches. I found them in the frozen bread section of Whole Foods. You can use any type of gluten free baguette or sandwich roll you prefer, or if you're not gluten free you can use any bread of your choosing.