Pub-style buffalo wings are crispy, smoky, spicy, buttery perfection. These are the wings you'll find on game day at your favorite sports bar, but now from the comfort of your own home.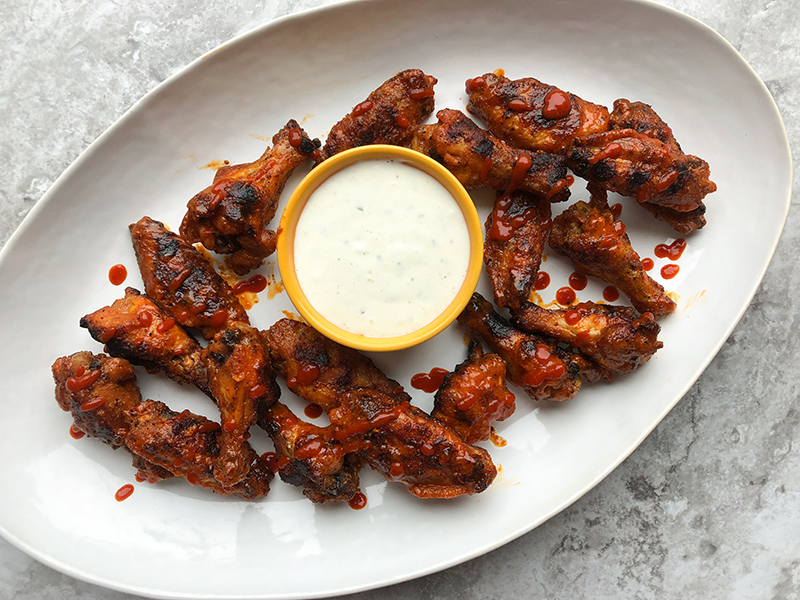 Yes, this is another wing post. You're going to have to get used to that because #1 they're my favorite food and #2 most restaurants don't have dedicated GF fryers for their chicken wings so I am relegated to fulfilling my chicken wing needs in my own kitchen.
I am always on the hunt for the perfect chicken wing. I have so many favorites, but nothing compares to a perfectly done wing with crispy skin and a classic buffalo sauce dipped in ranch dressing. It's just perfection.
After thousands of chicken wings from various restaurants, and several attempts to create the perfect chicken wing at home, I am here to share my chicken wing knowledge with you!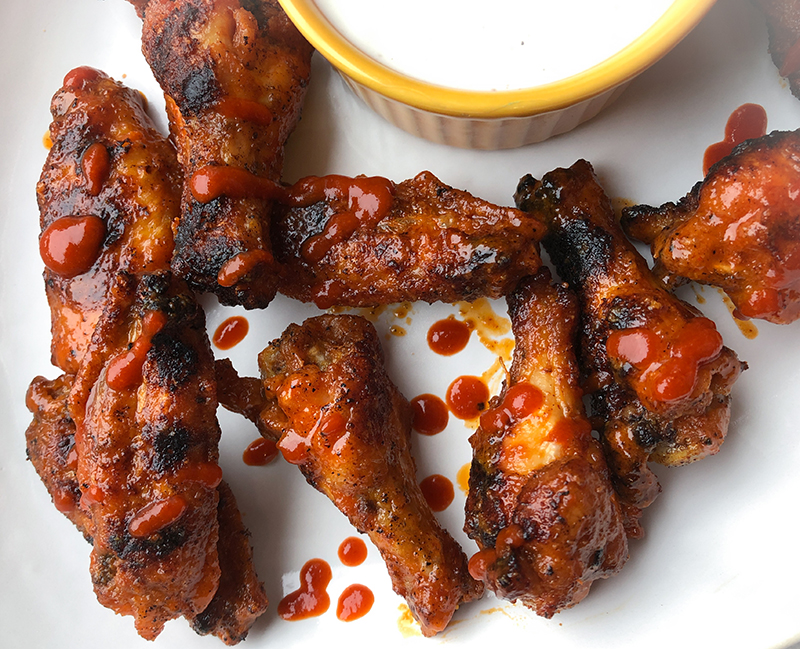 First of all, I need my skin to be crispy, and I've found that the overall best way to do this is to double fry them. Once at a lower temperature, and again at a higher temperature. This creates wings that are perfectly done, with shatteringly crisp skin all the way through to the last bite.
Secondly, the oil that you use for frying matters. Do you know why Buffalo Wild Wings' wings taste so good? It's because they're fried in beef fat! Beef fat isn't exactly easy to find, but pork lard is in stock at most major grocery stores and tastes delicious. It should be in the refrigerated section. If lard isn't available, my next choice is peanut oil because it's neutral and doesn't taste rancid at high temperatures.
Lastly, I tend to like my sauce on the side or I like my wings to be charred to keep the skin from getting soggy while it sits in the sauce as I eat. Charring (or char-buffing) chicken wings on a grill after they've been sauced is one of the most popular ways that sports bars in Omaha serve their wings and I'm here to tell you that it adds a subtle smoky depth of flavor that can't be beat! It might be hyper-regional, but EVERYONE needs to try their wings this way.
However, if you just want classic buffalo wings, you can still follow this recipe and skip the charring part. I won't judge (too much).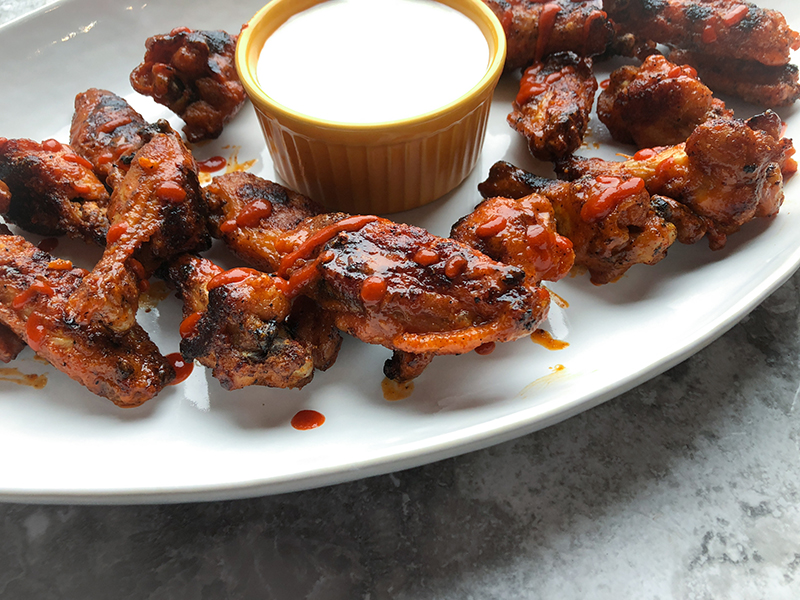 Oh, and if you're thinking the drizzle of sriracha sounds excessive or out of place, it's not. It's ever so slightly sweet and is an easy way to add some spice back in without the vinegary punch of Frank's totally overpowering the sauce.
P.S. Please use Frank's Red Hot for this. Thank you.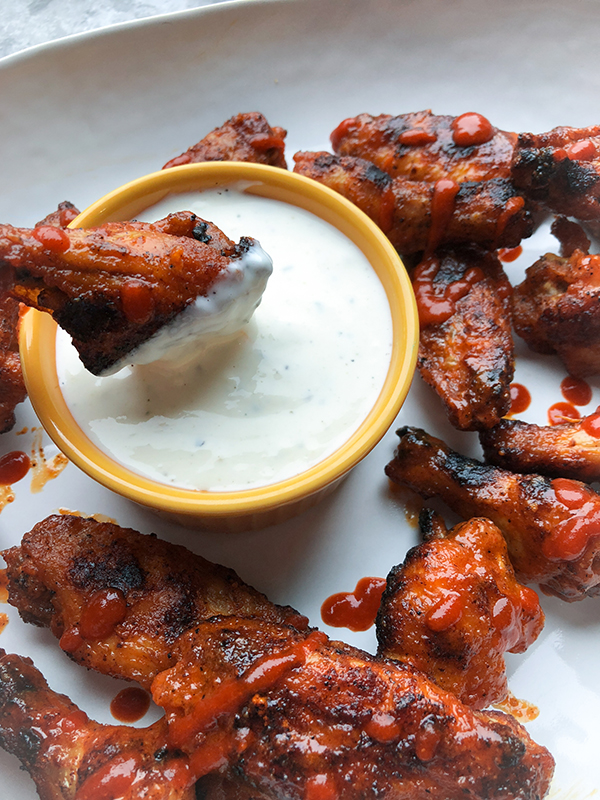 Want to try this recipe, but are in the mood for a different sauce? Try Sriracha Buffalo or Parmesan Garlic! (Note: I recommend skipping the char-buffing step if you change the sauce.)
I like to serve mine with Hidden Valley Ranch made from the dry mix, with some chopped fresh dill added to it. You can use your favorite ranch or bleu cheese dressing.
Here's the recipe:
Pub-Style Buffalo Wings
Ingredients
For the Wings
2

pounds

chicken wing parts

flats and drumettes

lard or peanut oil

for frying, see notes

sriracha

for drizzling
For the Sauce
6

tablespoons

unsalted butter

1/2

cup

vinegar-based hot sauce

I like Frank's Red Hot

1

teaspoon

worcestershire sauce

Lea and Perrins brand is gluten free

1/4

teaspoon

cayenne pepper

1/2

teaspoon

garlic powder

kosher salt

to taste
Instructions
To Make the Sauce
In a small saucepan over medium heat, combine all sauce ingredients except for the salt and whisk them together. Add kosher salt 1/4 teaspoon at a time to taste. Keep warm. If the sauce separates, just whisk vigorously until it is combined again.
To Make the Chicken Wings
In a heavy bottomed pot or dutch oven, add 1 lb of lard or enough peanut oil to cover the bottom of the pot by about 2 inches and heat to 250 degrees F.

Working in batches of 7-10 wings, fry chicken wings until just barely starting to get golden, and then set on a wire rack to drain. You don't have to worry too much about overcrowding the pan at this stage, but it will take longer if you do.

Turn heat up and heat oil to 400 degrees F. Again, working in batches of 7-10 wings, fry chicken wings until the skin is golden and crispy (and an instant read thermometer shows an internal temperature of at least 165 degrees F). Set on wire rack to drain. While the last batch is frying preheat a grill pan or outdoor gas grill on high (if you don't plan to char your wings, you can skip this step).

IF YOU PLAN TO CHAR: Toss wings in sauce, reserving about 1/4 of the sauce. Sear wings for 30-60 seconds per side on the grill until just a bit charred and smoky. Toss in remaining sauce, and drizzle with sriracha. Serve with ranch or bleu cheese dressing.

IF YOU DON'T PLAN TO CHAR: Toss wings in sauce and drizzle with sriracha. Serve with ranch or bleu cheese dressing.
Recipe Notes
This recipe makes about 20 wings, which is enough for a dinner for 2 or an appetizer for 4.
Why lard or peanut oil? Because they are safe at high frying temperatures and are the best tasting oils with the least rancidity at high temperatures. Make sure you buy your lard from the refrigerated section of the grocery store.
You can use a deep-frying thermometer for this if you have one, or just a regular digital instant-read thermometer will work just fine!