Everybody stop what you're doing and add these gluten free parmesan garlic boneless wings to your menu plan right now! I'm serious. They are such a punch of creamy garlicky flavor, and you need to experience it.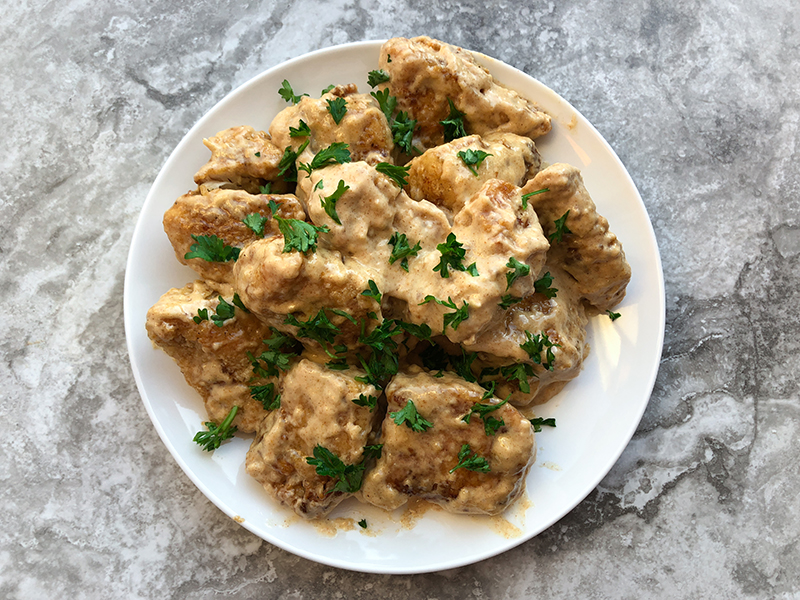 I'm sure I've said this before (probably a million times before), but one of my favorite restaurants before going gluten free was Buffalo Wild Wings. Also literally anywhere that served good wings. I'm definitely a bone-in traditional wing junkie, but boneless wings are the perfect vehicles for all of my sticky, saucy hopes and dreams. Say what you will about BWW, but the sauces on their boneless wings really can't be beat. Parmesan Garlic wasn't my most frequent flavor (that honor goes to Teriyaki and Caribbean Jerk), but it was an old standby and it has a place in my kitchen.
Obviously, I had to copy this sauce at home, with a recipe that served my gluten free needs. So now I'm sharing it with you – because seriously, oh my god, you guys. Please make these.
If you've been here for any amount of time, you know that I'm not someone who strives to make "at home" or "better than takeout [that aren't actually better than takeout]" versions of my favorite foods, I'm here to make food that is actually restaurant quality and that actually tastes the way you expect it to. Life is too short to settle for what my husband and I like to call "home food" – sure, it has a time and a place, and there are many "home food" dishes that I love, but that's not the type of thing that I'm here to share with you.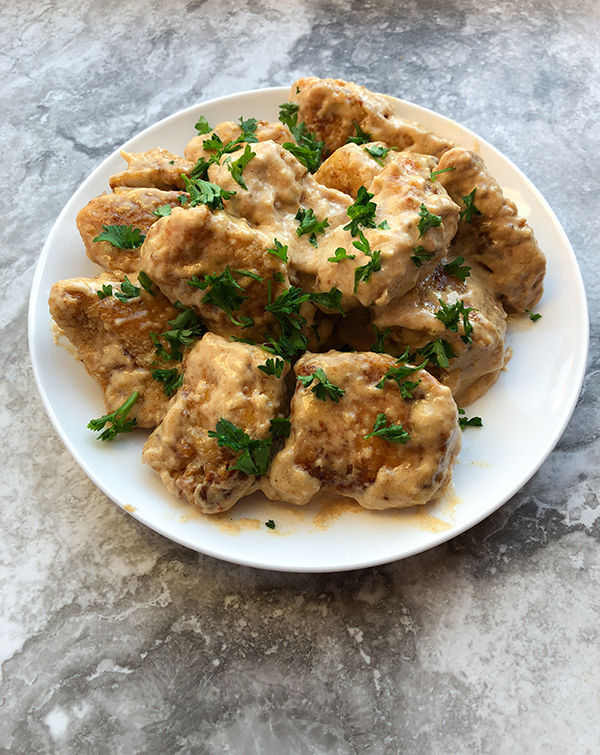 In this recipe, I went with the classic Italian-spiced flavor profile of the garlic parmesan wings you know and love. I used fresh grated garlic for a serious punch of that spicy garlic flavor, and also garlic powder for a more subtle hint of garlic as well.
Looking for other wing flavors? Try my Sriracha Buffalo Boneless Wings!
I used Hidden Valley Ranch dry mix for my ranch to dip in, and I like to use their instructions with a little sour cream mixed in. You can use whatever ranch you want! I've heard rumors that BWW uses Marzetti brand ranch in the restaurant.
Ready to get cooking? Here's the recipe!
Gluten Free Garlic Parmesan Boneless Wings
These crunchy gluten free boneless wings are pack a powerful flavor punch with a creamy garlic parmesan wing sauce.
Ingredients
For the Sauce
1/2

cup

mayonnaise

I used Duke's

3

cloves

garlic

grated or pressed

1/2

cup

parmesan

super finely grated or microplaned, see notes

1/2

lemon

juiced

1/2

teaspoon

finely ground sea salt

1/2

teaspoon

ground oregano

1/2

teaspoon

white pepper

1/2

teaspoon

paprika

1/2

teaspoon

garlic powder

1

tablespoon

milk

to thin, use more if needed for desired consistency
For the Boneless Wings
4

chicken breasts

cut into bite-sized pieces

2

large eggs

beaten

3/4

cup

cornstarch

3/4

cup

gluten free flour blend

without xanthin gum, see notes

peanut or canola oil

for frying

2

teaspoons

black pepper

1 1/2

teaspoons

finely ground sea salt

small handful

fresh chopped parsley

for garnish (optional)
Instructions
For the Sauce
In a medium-sized bowl, whisk all sauce ingredients together. If the sauce is too thick you may need to add more milk, one tablespoon at a time until you get the right consistency.
For the Boneless Wings
Heat about an inch of oil in a dutch oven, or heavy bottomed pan to 350 degrees F.

Set up your dredging station with chicken pieces, egg, and combine cornstarch, gluten free flour, salt, and pepper. One by one, dip chicken pieces in egg and then roll in flour mixture.

Fry chicken pieces in batches (being careful not to overcrowd the pan), until the crust is golden and an instant read thermometer shows an internal temperature of 165 degrees F. Set aside to drain on paper towels.

In a large bowl, toss boneless wings with garlic parmesan sauce, top with parsley is desired, and serve with ranch or bleu cheese dressing for dipping!
Recipe Notes
I used a microplane/zester to grate my parmesan cheese for this recipe. If you are using pre-grated parmesan (the kind in the shaker), use 1/4th cup parmesan cheese instead of 1/2 cup and taste. You may add more if needed, but pre=grated parmesan tends to measure differently than when you grate it yourself.
I like to use Bob's Red Mill Gluten Free All Purpose Baking Flour for this application (NOT Bob's Red Mill 1 to 1 Baking Flour), but any GF flour blend with no xanthin gum should work. Blends with xanthin gum may get sticky when fried.
Not Gluten Free? You can substitute 1.5 cups all purpose flour for the GF flour blend and the cornstarch in this recipe.