These smoked chicken wings are packed with tons of spices and smoky flavor, and when tossed in a sweet brown sugar barbecue wing sauce they are some next-level chicken wings.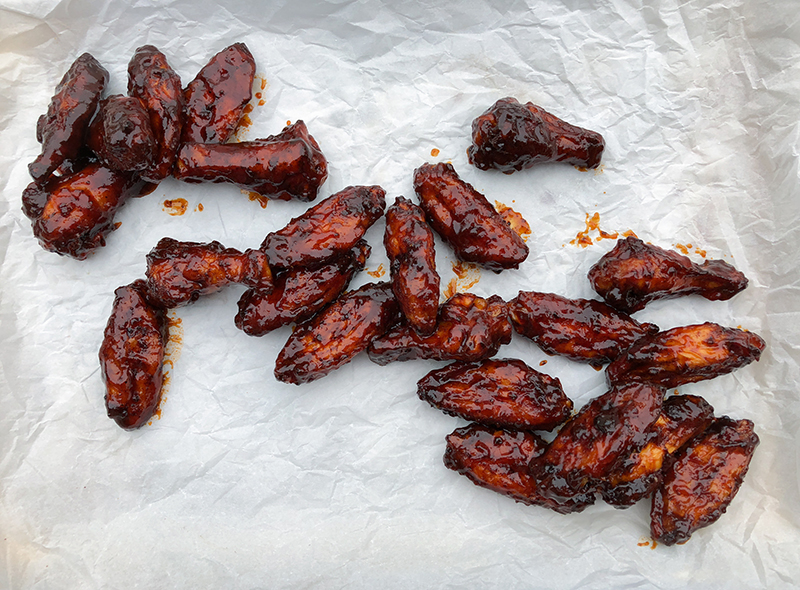 If you follow me on Instagram, you might know that I recently bought a smoker! I choose a Traeger Texas Elite 34, and I am totally in love with it. I had been flirting with the idea of buying a smoker for awhile, and when the annual Costco Traeger roadshow came to Omaha, I knew now was the time. Imagine the smoked meat possibilities!
So, of course, I needed to try it AS SOON AS HUMANLY POSSIBLE, and I had all of the ingredients to smoke some chicken wings! (I always have emergency wing rations, of course.) They turned out SO. GOOD.
They are smoked with a dry rub (picture of wings pre-sauce below), and then tossed in a stick, sweet barbecue wing sauce and the combination is seriously dynamite. The dry rub is super easy to throw together, and I will say that it looks like it's going to be too much spice for ~20 wings, but trust me, it's the perfect amount. The dry rub on any good smoked meat brings a great meal to an outstanding, excellent, amazing one, so don't skimp out.
The skin on these smoked chicken wings stays crispy even after being sauced, but if you wanted to eat them with the sauce on the side or even just the dry rub and no sauce, that would be fine too.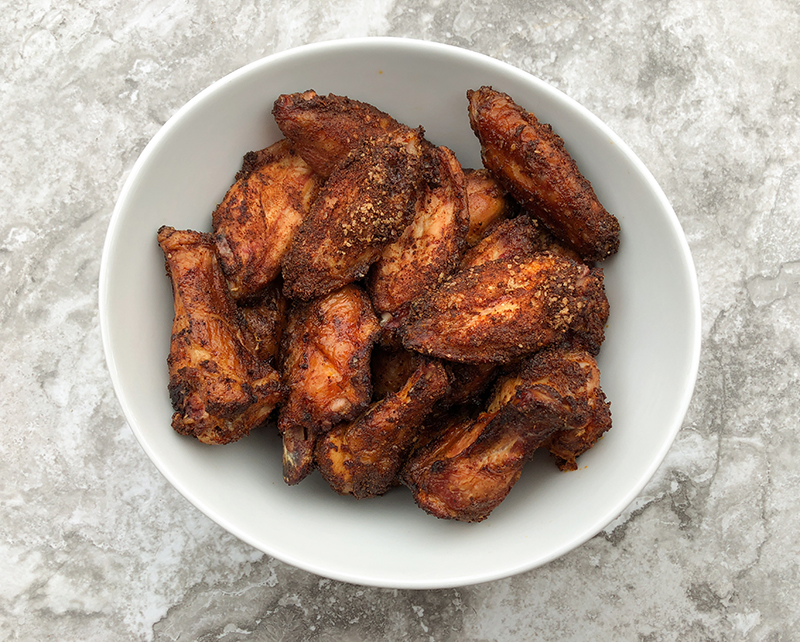 These are my husbands new favorite wings and according to him the best wings he's ever eaten (and not just the best smoked wings), and since I'm usually the chicken wing junkie who just drags him along for the ride, that's high praise. I'll admit that I had an inkling ahead of time that the barbecue sauce and flavors would be a hit with him.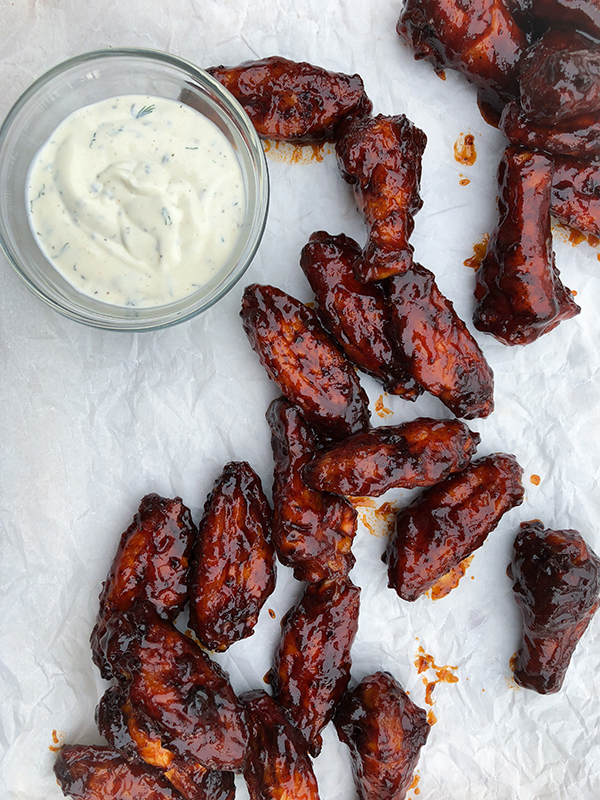 Personally, I have made these with pecan wood and hickory and they were good both times, but I prefer the slightly stronger smoke flavor of hickory for this application.
If you want to try a different wing sauce, you may consider any of these: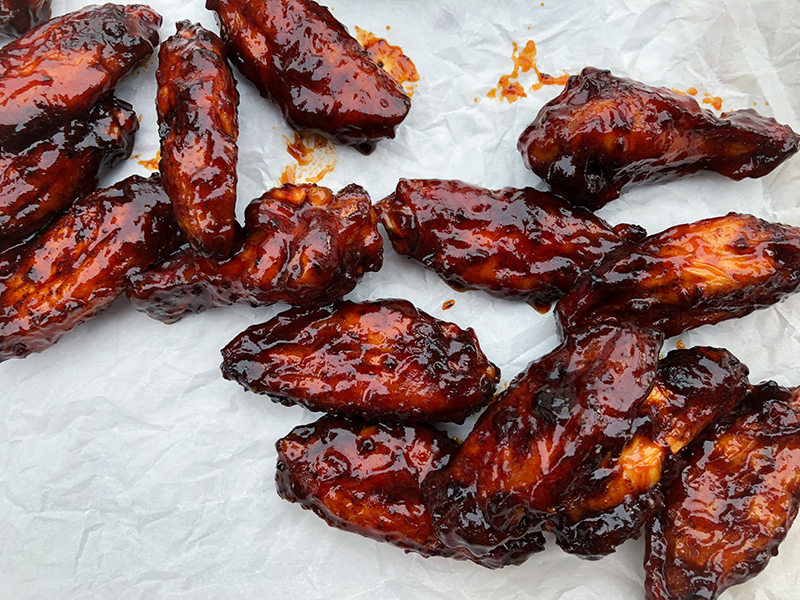 I like to serve these with ranch dressing. My favorite is Hidden Valley Ranch dry mix made according to package directions, with a little sour cream and copious amounts of fresh chopped dill added.
Get the recipe below!
Smoked Sweet Barbecue Chicken Wings
Cook Time
1
hour
45
minutes
Total Time
1
hour
55
minutes
Ingredients
For the Chicken Wings and Dry Rub
2

pounds

chicken wing pieces

flats and drumettes

hickory wood

pellets, chips, or whatever your smoker uses

1

tablespoon

paprika

2

teaspoons

kosher salt

I used Morton's

1

teaspoon

chili powder

1

teaspoon

garlic powder

1

teaspoon

onion powder

1

teaspoon

chipotle chili pepper

1

teaspoon

dried mustard powder
For the Sauce
1/2

cup

store-bought or premade barbecue sauce

I like Sweet Baby Ray's Original

1/4

cup

hot sauce

I like and recommend Valentina's

3

tablespoons

unsalted butter

2

tablespoons

brown sugar

1

teaspoon

kosher salt

I used Morton's
Instructions
Prepare your smoker according to manufactures directions. You will need enough wood for about 2 hours of smoking. I prefer hickory for this recipe.

Preheat smoker to it's lowest setting (I used the Smoke setting on my traeger which is about 165 degrees F). Toss your wings in dry rub spices so they are completely coated.

Add wings to smoker and smoke for 30 minutes on the lowest temperature setting (or about 165 degrees F). After 30 minutes, adjust the smoker temperature to 350 degrees F and continue to smoke your chicken wings for another 50 minutes. Finally, set your smoker to 375 and smoke the wings for a final 15 minutes to crisp up the skin.

While your wings are in the last cooking step, make the sauce. Add all sauce ingredients to a small sauce pan and heat over medium, whisking until combined.

Toss your finished wings in the sauce, and serve with ranch or bleu cheese dressing.
Recipe Notes
Chicken wings are small, so if you have any hot spots in your smoker, keep them away from that area as much as possible or you will have the equivalent of chicken burnt ends.
I have a Traeger pellet smoker, which is what I tested this recipe on. The times and temperatures should be universal for all smokers, but you know your smoker best, so use your best judgement depending on your situation.