Shredded chipotle chicken is so juicy, flavorful, and versatile that it will go on your menu plan every week. It's perfect for tacos, tostadas, or enchiladas and it's only 6 ingredients.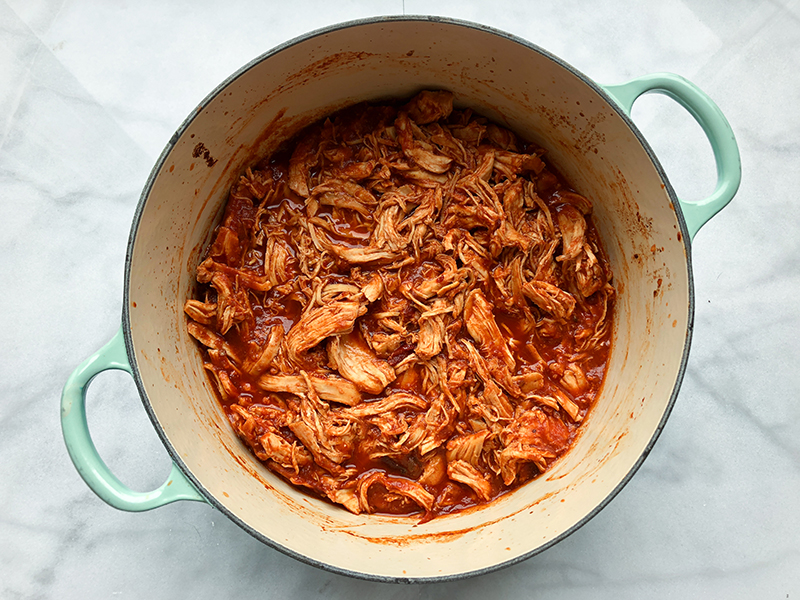 I love making this chicken because it's so easy – just dump everything into a dutch oven or slow cooker and then toss it into the oven until it's done! It's also possible to make it in the Instant Pot, but trust me when I say it works a lot better in the oven or slow cooker because of how thick the sauce gets.
It can easily be scaled up for a party, too. The first time I made it was actually for a taco bar! In the recipe card I call for 4 chicken breasts for 6-8 servings, but depending on how you use it, it can probably feed a lot more. When we make tacos or tostadas with it, it usually makes about 12 and sometimes even then we still have extra leftovers.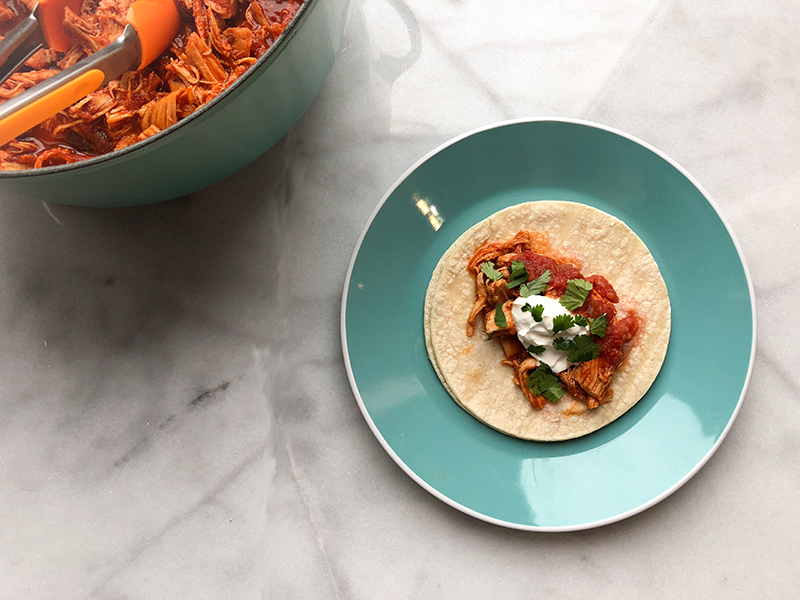 I've been known to just fill a bowl with this stuff, add some toppings to it, and call it a day, but if you're feeling fancy, here are some ideas for how to use it:
Tacos
Tostadas
Enchiladas
Stuffed baked potato
Copycat crunch wrap supreme
Burritos
Taco salad
Taco chicken pizza (top a frozen cheese pizza with chicken, sliced black olives, and cheddar cheese and bake according to package directions, then if desired, top with diced tomatoes and crushed nacho cheese Doritos (or similar GF chip brand).
Lettuce cups/wraps
The possibilities are truly endless.
My favorite is on tostadas with befriend beans, sour cream, salsa, guacamole, all of the extra sharp cheddar cheese in the refrigerator, and some hot sauce right on top.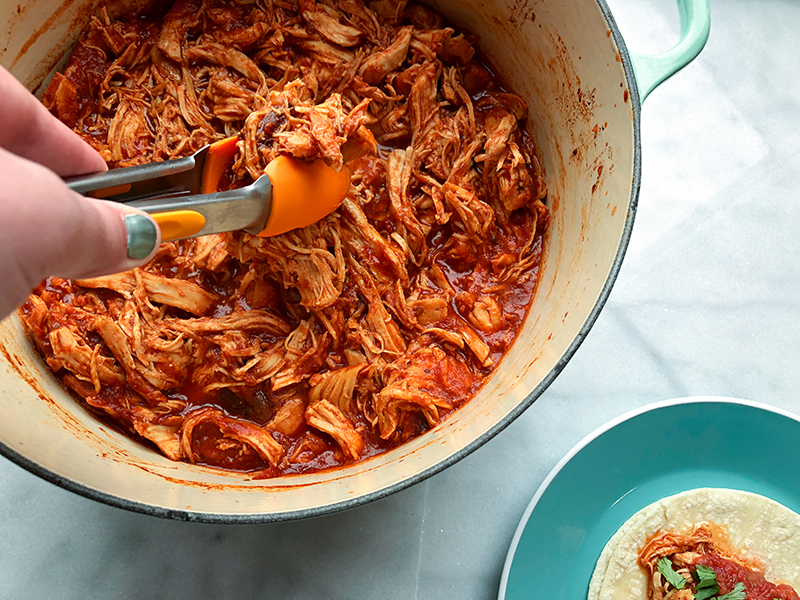 If you're gluten-free you will need to check the ingredients on the tomato paste and chipotle peppers, like you would with anything. Most brands are gluten free, though. I use Orrington Farms chicken broth base which is gluten free, but Better than Bouillon is also excellent for those of you who are not gluten free.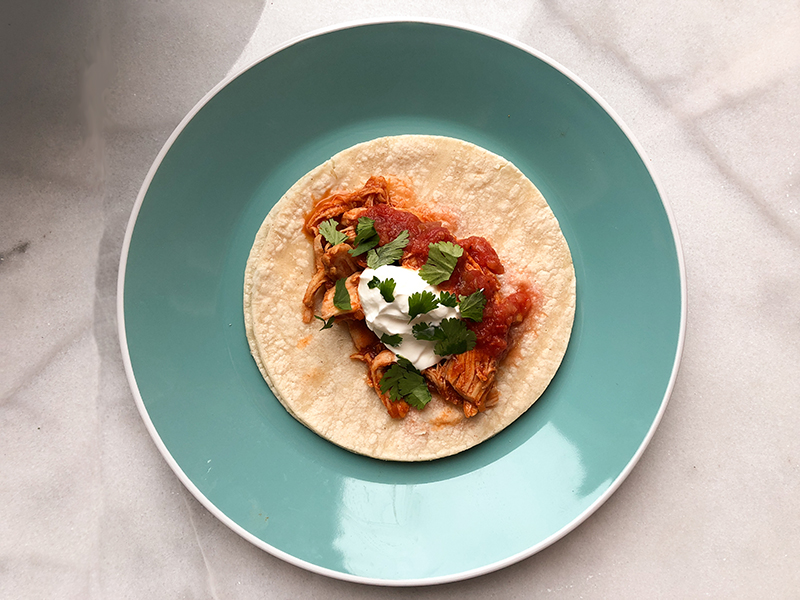 Here's the recipe!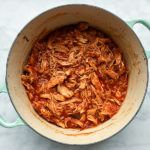 Shredded Chipotle Chicken
Shredded Chipotle chicken is super juicy and flavorful, and perfect to add to tacos, tostadas, enchiladas, or anything else you can think of.
Cook Time
1
hour
30
minutes
Total Time
1
hour
40
minutes
Ingredients
4

chicken breasts

boneless, skinless

2

tablespoons

taco seasoning

one packet if using pre-mixed

3

chipotle peppers in adobo sauce

1

can

tomato paste

2

tablespoons

chicken broth base

(Orrington Farms is gluten free)

2

cups

water
Instructions
Preheat oven to 350 degrees F.

Place chicken breasts in a large dutch oven or other oven-safe dish. Sprinkle with taco seasoning and top with chipotle peppers. Combine broth base, water, and tomato paste in a measuring cup and pour over chicken.

Cover and bake for 1 and a half hours, or until internal temperature of chicken is at least 165 degrees F and it can be shredded easily with two forks.

Shred the chicken carefully with two forks and add it back to the sauce, stir to combine and serve.
Recipe Notes
When shredding meat, the internal temperature will often be well above the recommended internal temperature for any meat type by the time it can be easily shredded. This is 100% fine and due to the cooking method and sauce, the chicken will not dry out.
SLOW COOKER INSRUCTIONS: Place all ingredients in a slow cooker following the directions in the recipe and cook on high for 4 hours or on low for 6-8 hours. Chicken does well on the "keep warm" setting after it's been shredded.