Chiles rellenos are amazing cold weather comfort food. They're crispy and cheesy and smothered in sauce – what's not to love?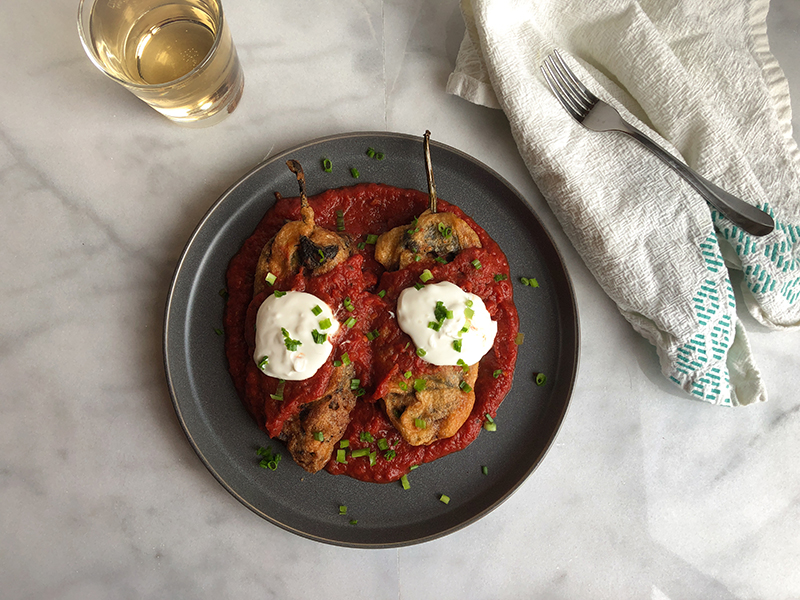 These were one of my favorites growing up, and continued to be a regular restaurant order as an adult, but it took me forever to decide to actually make them myself. I guess getting diagnosed with celiac disease pushed me to finally do it! Most traditional recipes are gluten free on their own (or easily can be made that way), but it's just a constant fryer cross contamination issue. I think it's a blessing in disguise though, because they're definitely better when you make them at home!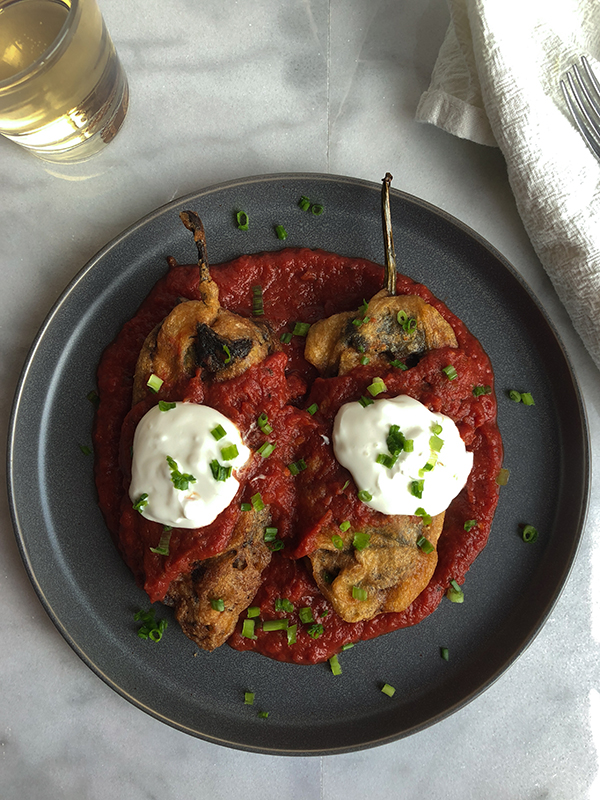 Making chiles rellenos is a labor of love for sure, but it's so worth it. There are a lot of steps, and I'll admit that several times throughout the process it seems like everything is going to fall apart and nothing is going to work, but I will tell you that it DOES all work out in the end, always.
The most time consuming part is blistering the skin of the poblanos under the broiler and then peeling it off, but after that it's pretty smooth sailing. Sometimes when you're peeling the peppers or scooping the ribs and seed out, they start to rip, but it's not a big deal.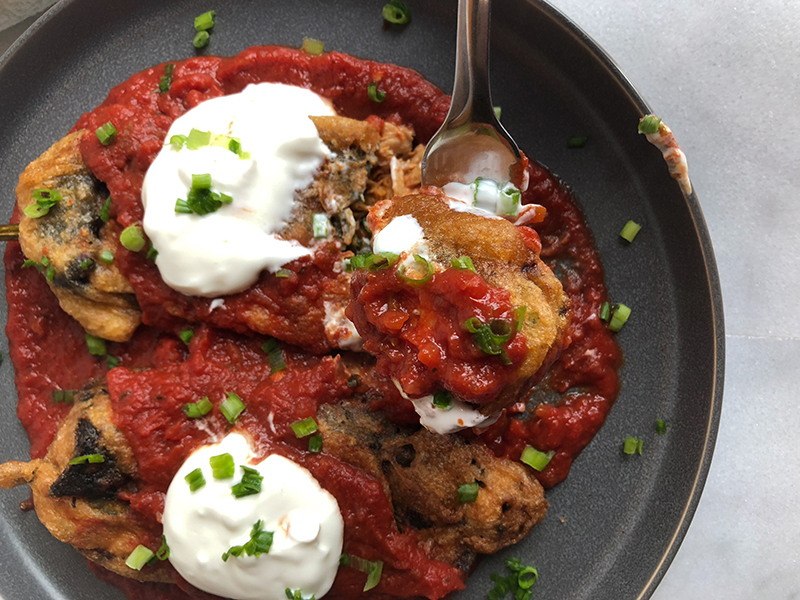 Ideally there should only be one small cut in the side of each pepper, but if things get a little messier than that, it's okay. None of the filling is going to leak out because the egg is going to hold everything together as soon as the chiles hit the oil.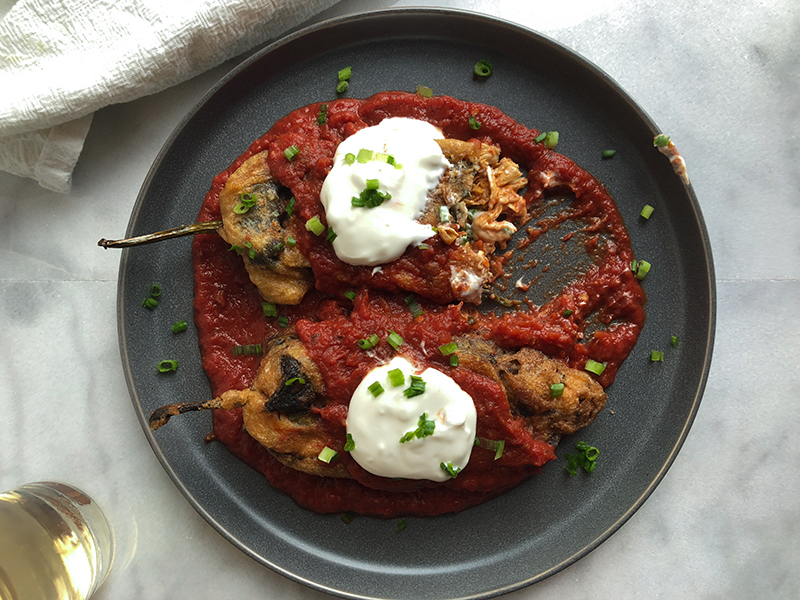 If you have a kitchen partner to help you make these that would speed up the process considerably, but I've written the recipe so that you can do it all yourself, so just follow the steps in order and you'll be set!
When I wrote and photographed this recipe, I stuffed these with Monterey jack cheese and shredded chipotle chicken, but most of the time we just eat them with cheese! (Don't tell anyone, but I just use whatever white cheese I currently have on hand – mozzarella is good too.)
Here are some other filling ideas:
Refried beans or black beans
Picadillo
Ground beef seasoned with taco seasoning
Ready to give it a go? Here's the recipe!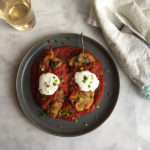 Chiles Rellenos
Chiles rellenos are amazing cold weather comfort food. They're crispy and cheesy and smothered in sauce – what's not to love?
Ingredients
6

oz

tomato paste

(1 small can)

2

cups

your favorite salsa

I used Pace Restaurant Style

8

large poblano peppers

1/2

cup

corn starch

5

eggs

8

oz

monterey jack cheese

(a block of cheese is best)

peanut or vegetable oil

for frying

sour cream, guacamole, sliced green onions

optional for serving
Equipment Needed
baking sheet, aluminum foil, large skillet, small saucepan, spoons, whisk, mixing bowls, paring knife, cutting board, plates, tongs, rubber spatula, wire cooling rack
Instructions
Preheat the broiler on high and line a baking sheet with aluminum foil, set aside.

In a small saucepan, stir together the tomato paste and salsa, then cover and set it on the stove over low. Stir occasionally while you complete the other steps and be careful of splatter.

Place the poblanos on the baking sheet and stick them under the broiler (keeping the over door slightly cracked), and let them broil under their skin starts to blister and turn dark, flip them over to blister on all sides. Once they're done, pull them out of the oven to cool.

Once the chiles are cool enough to handle, transfer them to a cutting board and peel the skin off and discard it. It doesn't have to be perfect, just get as much off as you can and try not to tear the peppers. Once they've been peeled, use a small paring knife to cut a slit in the side of each chile, then use a small spoon to scrape out the seeds and ribs. Get all of the seeds out and as much of the ribs as you can, but if the pepper starts to tear excessively, it's okay to leave some of the ribs behind (the seeds will be super unpleasant though, so get rid of them). It's okay if they tear more than you intended, your filling won't leak out because the egg will seal everything in. Sometimes the stems fall out during this process, that's okay too.

When all of the chiles are peeled and scooped out, pour the cornstarch onto a plate for dredging and cut the block of cheese into 8 equal slices (slicing it the long way). Take each chile and stuff it with cheese (and any other fillings you want to add), and then dredge it in the corn starch, and set aside.

At this point you'll want to pour oil into the skillet (about an inch of oil) and start heating it over medium-high heat. It should be about 350 degrees, if you want to take the temperature with an instant read thermometer.

Next separate the eggs (see notes), whites going into a mixing bowl and yolks going into a smaller bowl. Be careful not to let any of your yolks bleed into your whites because it will keep the whites from whipping. Using a whisk, beat the egg whites until stiff peaks form, about 10 minutes (you can use an electric mixer for this, just be careful not to over-beat them). When you stick the whisk into the whipped egg whites and pull it out, the "peak" that forms on the end of the whisk should mostly hold it's shape and not flop over at all. Once that's done, beat your yolks really well in the smaller bowl, then pour the yolks into the whites and very carefully fold them in with a rubber spatula (the whipped whites will fall slightly, but they shouldn't completely deflate).

Working one at a time, dip the dredged poblanos into the egg mixture, making sure they are fully coated, then carefully slide them into the hot oil. (If you need to fry in batches, which you probably will, wait to dip your chiles into the egg mixture until right before it's time to fry.) Once the chiles are browned and crispy, carefully flip them over with tongs, and fry on the other side. Once all sides are browned and beautiful, transfer them to a wire cooling rack or a paper towel lined plate to cool.

Once all the chiles are done, top them with the salsa roja. Serve immediately with sour cream, guacamole, or sliced green onions, if desired.
Recipe Notes
The easiest way to separate eggs is to crack the egg so that you have two shell halves. Hold the egg over a bowl and pour the inside back and fourth between the shell halves until the whites separate and fall into the bowl. You might want to use a third bowl here, pouring your egg whites into the mixing bowl after each egg so that if your yolk breaks you won't have to start completely over. It WILL NOT WORK if you get yolk in the egg whites. Not even one small speck. I'm not kidding.